Elementary Review: No Matter What
Jim Garner at . Updated at .
It has been a bit since Sherlock and Joan have had a truly creepy suspect with which to deal.
And while the writing behind Lucas Bundsch in Elementary Season 2 Episode 9 was supposed to give him that quiet kind of calm-creepy presences. I found Troy Garity's performance of Bundsch lacking.
I could never tell if Bundsch was really playing cat and mouse with Joan and Sherlock or if he was actually supposed to be innocent. Garity's mostly flat and mild speech didn't convey "controlled calm," it came across more like "bored actor" to me. Never a true evil smile, or a knowing grin, always just the same "blah" look.
Maybe I've just gotten spoiled with Jonny Lee Miller's in-depth and heartfelt portrayal as Sherlock. Take the conversation with Joan at the end of the episode about his true nature and that he is not a nice man. His body language, facial expression and general presence all conveyed the message as much as his words did.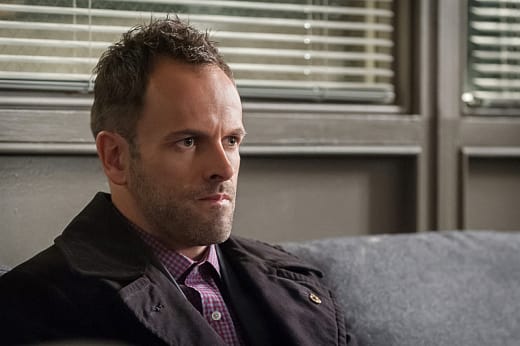 Also, on the flip side from Garity's seemingly lackluster performance, I really enjoyed Captain Gregson's discussion about how good Sherlock was with Detective Coventry. It was great to see Gregson take pride in the work that he and Watson do and while he says he sticks his neck out, we never really get to see it first hand.
Speaking of Detective Coventry, Chris Bauer has been playing Andy Bellefleur, a stubborn, hard-nosed, yet kind of lazy town sheriff for the last six years on True Blood... was he really the best choice to play a stubborn hard-nosed, yet kind of lazy police detective?
Don't get me wrong, he did a great job at the role, in some ways it may have been too good. I found myself yell things like "Jeez Andy, what were you thinking?" at the TV. Who knows, with True Blood wrapping up next season, maybe Bauer will become a recurring character here and I'll start to remember the right now.
In the end, Sherlock and Joan turned out to be correct: Bundsch was a serial killer and was keeping the women prisoner in his sound studio before killing them. Though we did get a pleasant surprise when they found Kathy Spalding alive and reunited her with her husband.
Elementary Season 2 returns with a new installment on December 5.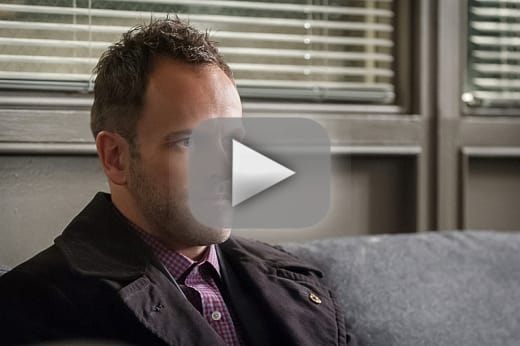 Jim G. is a TV Fanatic Staff Writer. Follow him on Twitter.