The Big Bang Theory Review: Something-Something on the Side

Carla Day at .
Ouch!
I got itchy just looking at Leonard's red and irritated chest. How did he stand it? Why is Leonard friends with Sheldon again?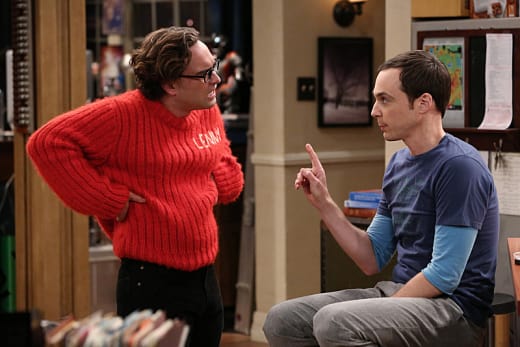 The Big Bang Theory Season 7 Episode 8 was just odd. It was disconcerting to watch Sheldon be not just calm, but overly so. I'm surprised his friends didn't send him to a doctor for a brain exam. Though, Leonard should have gotten one too for torturing himself with that sweater. 
If Leonard was going to play it out in order to win over Sheldon, he should have at least taken some Benadryl. I mean, really! Penny was spot on when she asked if the sweater was made of bees. His chest certainly looked like it was giving him that bad of a reaction.
I'm surprised that neither I nor any of his friends figured out why Sheldon was so calm. Of course, he already paid for the movie. That really was the only logical explanation, since Sheldon having a lobotomy was out of the question. 
Leonard was a sucker! Sorry, dude. Overall, it was a pretty funny ruse that Sheldon played on him. And it went in line with his obsession with the trick flower and can. Sheldon may be super intelligence, but he has the sense of humor of a child. 
While Leonard and Sheldon were playing each other to see who would win, Raj was having girl troubles. And while Penny meant well, she only made the situation worse...then better... and ultimately worse again. All of which really was Raj's fault.
"What is wrong with you?" It was sad, yet hilarious to see Raj yell at himself in the mirror. He really needs to learn some people skills when it comes to interacting with women. 
I'm glad he didn't end up with Lucy again, though. Amy and Sheldon both have issues, but it works for them for the most part. Lucy and Raj's individual problems were compounded when they were together.
Perhaps, Raj can finally move on, take some lessons from Penny, and not offer to be "a little something-something on the side" again. That was a hilarious come on, though.
While Sheldon and Leonard's story provided the funnier overall moments, the best lines were that one from Raj and this one from Howard: 
Howard: If I may, he has so little self-respect and is so desperate for the smallest crumb of affection, she could literally sleep with his own father in his own bed and post the video to YouTube, and he'd still buy her flowers and ask her to be his bride.
Raj: He's right.
Check out more funny lines in our The Big Bang Theory quotes section.
Carla Day is a staff writer for TV Fanatic. Follow her on Twitter and on Google+.