The Big Bang Theory Review: A New Thanksgiving Tradition

Carla Day at . Updated at .
I laughed ... out loud ... a lot!
The Big Bang Theory Season 7 Episode 9 is the episode I've been waiting for all season long. Not only did I laugh at more jokes than I didn't, I burst out laughing more in this half-hour than I think I have so far during The Big Bang Theory season 7.
With one notable exception, I loved the episode.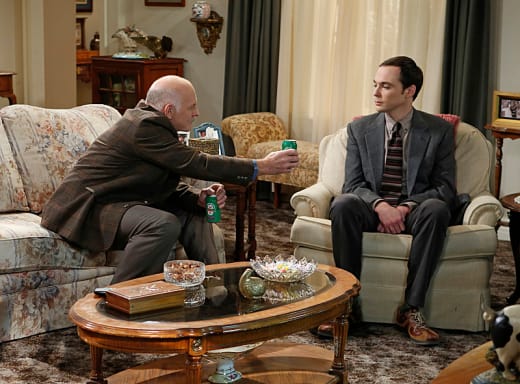 The only disappointment from "The Thanksgiving Decoupling" was the inclusion of Sheldon's slavery comments. Those were not only unnecessary, they were insulting and weren't even funny. Perhaps I missed the point. At least Amy spoke up and told him they were inappropriate, but still ... writers, why go there?
I also wasn't entirely thrilled about Penny being portrayed as an idiot, but that set up some hilarious moments. Penny and Leonard's relationship is lop-sided and this was a perfect example. He's super-smart and she's ... not. Should he have made her feel less than worthy about it? No, but given their history it felt realistic.
It is kinda ridiculous that drunk people can get married on the whim like that by an Elvis impersonator. In college, I met someone who actually did that. Hmm ... wonder if they are a writer on the show now? It seems crazy, but it happens. Though, she at least realized it was a real wedding. 
This long exchange cracked me up from start to finish. Kaley Cuoco did a great job of playing clueless, while the others portrayed the appropriate amount of dismay over the situation. Loved it!
Penny: We had one of those silly fake weddings.
Leonard: Penny ... you know those are real, right?
Penny: No, they're not.
Leonard: Yeah, they are.
Penny: No, they're not.
Leonard: Yeah, they are.
Sheldon: He's right.
Amy: They're real.
Penny: But, it didn't seem real.
And Zack's arrival at dinner and interaction with Penny and Leonard just proved how much better off she is with him. And despite Penny's ill-advised decisions at times, they really are a good match.
The other over-the-top situation was when Sheldon got drunk. He's hilarious when he drinks. He should definitely get drunk more often. He's much funnier after a drink or two than he is when he acts self-righteous or is ignorant of social norms.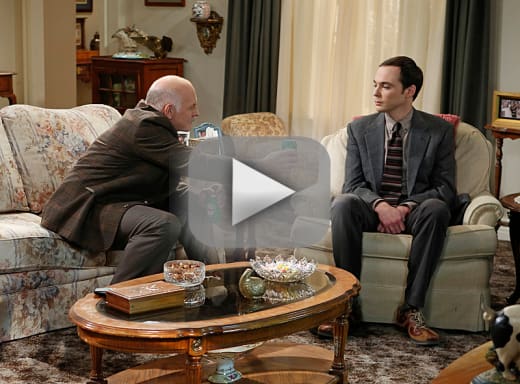 His knowledge of football is nothing new since he's mentioned before that he's from Texas where everyone knows football. It was sad to see Bernadette's father bonding with the normally socially awkward Sheldon and not Howard. At least by the end of dinner, he warmed up a tad to Howard.
Sheldon burping Pi should be the new "Bazinga!" Okay, maybe not but it was hilarious. Though, my favorite drunk Sheldon line was when Bernadette walked into the room and reprimanded them for being mean to Howard.
She's so tiny. It's funny when she's mad.

Sheldon
Good job, Sheldon. Since Thanksgiving was at Mrs. Wolowitz's, I wondered for a second if we would finally meet her. We didn't and I'm glad about that. I hope we never do. Seeing her in person would never live up to the image that's been built up over the seven seasons. Though, she did make her presence known.
The closing exchange was a funny way to end the Thanksgiving feast of family and friends.
Bernadette's Dad: Hey, Sheldon, what do you say we go outside and throw around the old pigskin.
Sheldon: This is a Jewish house. I don't think they have pigskins.
Mrs. Wolowitz: Did someone say "pigskin"?
There were lots of great lines. Check them out in our The Big Bang Theory quotes section. Share your favorite lines and moments in the comments.
Carla Day is a staff writer for TV Fanatic. Follow her on Twitter and on Google+.