The Mindy Project Review: Color Blind

Chris O'Hara at . Updated at .
Mindy and her partners came under fire when they were praised by a patient on her racist blog, WhiteMommy.com, this week.
While trying to project a united front, Schulman and Associates were betrayed by one of their own on The Mindy Project Season 2 Episode 9.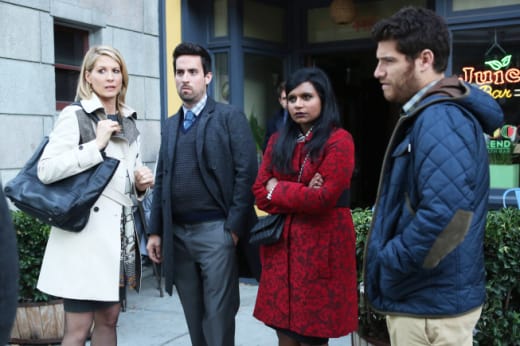 Jenna Elfman guest starred as the PR guru hired by Jeremy to clear the practice's name, but after their initial consult, it was clear they had their work cut out for them.
Mindy: I'm Indian I can't be racists.
Danny: Oh please you only hook up with white guys. I've hooked up with every race of woman.
Mindy: How dare you. I went to second base with my friend Korean Justin. His hands were so small they made my boobs feel enormous.
The midwives targeted Mindy and Danny, of course, but being condescending or edgy does not a racist make.
Danny even went as far as to attack Brendan when he said he had no idea who Derek Jeter was. Mindy referring to her friend as "Korean Justin" may have raised some eyebrows, funny as her story was, but Tamra opened Mindy's eyes to the real issue of her looking down on people.
One thing Mindy, Danny and Jeremy have all been guilty of is dismissing Peter's opinion because of his college humor. Good for him for confronting Mindy about not taking his ideas seriously. His idea for the mobile medical unit ended up saving the day. Hopefully he won't change his ways to live up to his new title.
Morgan's attempt to apologize to Cliff backfired - as did his dog bite sleeve test - but they made for some hilarious scenes. The funniest line of the episode, though, may have been Jeremy's TODAY reference in the opening moments.
Morning campers, did you all not catch Tuesday Boozeday this morning? Hoda was on fire!

Jeremy
Whether it was telling Dr. C how he always gets played out, or getting real with Mindy about her boyfriend, Tamra delivered her best performance since joining The Mindy Project.
Overall it wasn't the best episode of The Mindy Project Season 2, but there are always plenty of laughs to be had when the gang goes at it with the Deslaurier brothers. What did you think?