The Mindy Project Review: I Want Your Sext

Chris O'Hara at . Updated at .
We caught up with Mindy this week, still hard at work on a Friday night.
Things at the practice have been so crazy, she didn't have time to worry about how she looked, which was unfortunate for her as she ran into Cliff and his date on the elevator.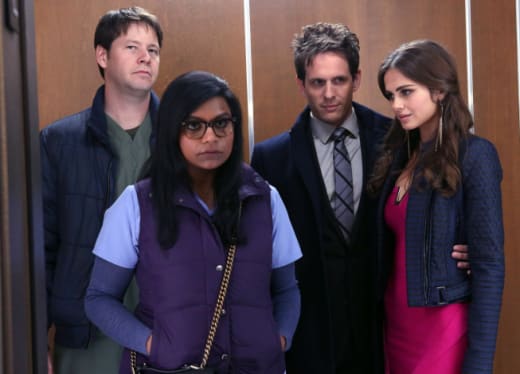 At some point Mindy misplaced her purse. Like Batman without his utility belt, the physician was powerless without her phone and keys. Lucky for Danny, she invited herself to stay at his place.
I knew the relationship between Peter and Morgan was going to produce some great scenes and on The Mindy Project Season 2 Episode 8 we got just that.
You know that happened to me for real? Green Key Weekend, Junior year, I aspirated on my own vomit. Chris Farley appeared to me and said "It's not your time yet."

Peter
I like Mindy Kaling using Adam Pally's character to reference her alma mater Dartmouth. Even if most of his anecdotes are self-deprecating. Peter is smart enough to hold his own among the other doctors, but not above having a good time with Morgan, like we saw as they began texting Cliff.
At Danny's building, Mindy rescued her friend from his neighbor by pretending to be with him, but took it a few steps further in typical Mindy fashion.
Once upstairs, things got uncomfortable for Danny, while Mindy was feeling a little too relaxed and let out a couple farts. I couldn't help but feel for Danny, having misread Mindy's mention about her new crush, but I like the way the two aren't being thrust into a relationship too quickly.
Hopefully Mindy can get past Cliff and Heather hooking up because he did seem genuinely interested in her, even before the sexting began. It might take a couple episodes, but I'm confident they will be sending winky faces to each other for real at some point.