The Originals Review: Pledge Allegiance To The King
Miranda Wicker at . Updated at .
When last we saw our beloved original siblings, Tyler was in town causing a ruckus. Elijah was suffering from a Klaus-bite and Rebekah was choosing between her brother and her new lover. 
The Originals Season 1 Episode 8 picked up with Rebekah going to confession 24 hours after the previous episode ended. Elijah has recovered, but the Mikaelson family isn't the same.
An alternate title for this week's review of The Originals could be "Everybody Hates Klaus." And man, do they ever have reason to hate the original hybrid! 
If people don't hate him because he can be so evil, they'll hate him because he's so much better than them at things like taking on an entire army of vampires all at once.
That fight scene. You guys. I'm not sure there are adequate words to describe how amazingly orchestrated that battle was, all the way down to Marcel picking up the coin and pledging his allegiance to Klaus. I only thought the orchestral slaughter of 12 hybrids was his best battle.
Huge, huge props to Joseph Morgan for his outstanding portrayal of the hybrid everyone loves to hate. Never has a character made me want to punch him in rage for being such a selfish twit, then fist-bump him for being such a beast, and then cry with him all in the same episode. But that definitely happened tonight.
He's evil! And a badass! And sometimes he has a heart!
First, Klaus spilled his soul to Cami again, forcing the bartender to type his memoirs on Hemingway's typewriter while he filled up on booze. Part of me really wants Cami to hate Klaus for all of his compulsion, but part of me really wants her not to hate him at the same time.
Klaus is damaged and Cami, despite knowing - at least in those moments - that he's a monster, does not hesitate to call him on his crap. She's good for him. Really good for him. And he has a soft spot in his hybird heart for her, too.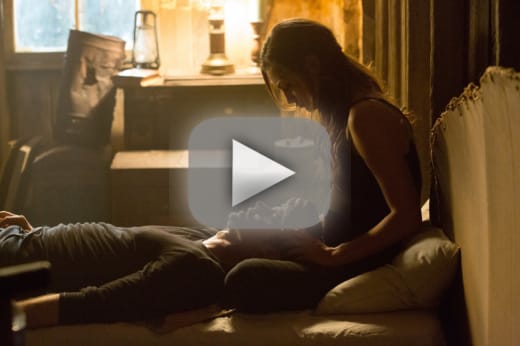 He revealed to Father Kieran that at first he compelled her because he needed to use her, but now he compels her for her protection. We can argue that she doesn't need his protection all night long. (Personal thought: She doesn't need it.) But the point is that he thinks she needs it. He cares enough about her to keep her from being harmed. For someone like Klaus, that means something.
Lots of things mean something to him. Like loyalty, which, as Marcel said, Klaus will never have. 
He'll never know what it's like to have people loyal to him who weren't sired or compelled to be that way because he doesn't know how to be loyal to other people, not even his own siblings. Time and again they've given up their own happiness for him and he can't see that. Or won't see that.  
That paranoia we heard so much about when Klaus was still just a name and spirit inside Alaric Saltzman's body is still present. He trusts no one, though, to be fair, 1,000 years on Earth would probably do that to a person. He's seen a lot, you know? 
He's also done a lot, like repeatedly kill his sibling's significant others.
In between Hayley chatting up one of the members of her long-lost pack, she cared for Elijah, who unknowingly let her into his thoughts. She was able to see that at one point, Elijah was very much in love, but Klaus ruined it. 
Elijah seems to be taking the fact that his memory of Celeste was the one to break through his "fever brain" as a sign that he shouldn't pursue a relationship with Hayley, which drags out the drama between them for the rest of us. They'll get together eventually, right? This is going to happen?
Here's hoping. Klaus is certainly making it difficult and after his speech to Rebekah and Elijah, I can't say I blame him. 
More props to JoMo for the man tears he shed while telling his siblings that all he's wanted was to reclaim their home and they've repeatedly lined up against him. He's feeling the sting of their repeated betrayals and none has been so painful as the fact that he could lose Hayley and the baby to his brother. 
Part of me remembers all the times he's spoken of ridding the world of his unborn and feels like he doesn't really have much room to complain that Elijah is moving on in. But then there's a part of me that remembers that this is Klaus we're talking about and something as simple as having the air conditioning looked at is a sign that he protects those he accepts into his circle.
He's reeling from the thought that he's lost this baby before he ever had a chance to get to know her. I didn't really like this baby story at first, but now? Now I'm sold. I want to see what becoming a father does to Klaus.
In other news from tonight:
Cami is leaving herself notes written in a code she and her brother created as a way to regain her lost memories. LOVE THIS GIRL!
Tyler's...well...gone-ish. He's in the gardens. Keeping Thierry company. Boo.
The wolf protecting Hayley was a part of her family. When Marcel ascended to power, he had a witch cast a spell where the werewolves are only human on the full moon and are cursed to roam the Earth in their animal form the rest of the time. It's an interesting twist.
"The River in Reverse" was a relatively compartmentalized episode, which seems to be the running theme for The Originals of late. It works because each character and storyline are receiving relatively equal screen time for development, and at some point, all of the various arcs will converge. They're starting to already.
What did you think about The Originals Season 1 Episode 8? Would you have picked up the coin? Was that your favorite Klaus fight scene? How long before Hayley and Elijah pair up?
Miranda Wicker is a Staff Writer for TV Fanatic. Follow her on Twitter.