The "Master Plan" of White Collar Season 5 Episode 5 had to be flipping the script on Neal's continuing struggle with his inner conman and completely ignoring Siegel's death.
After spending the first few episodes of White Collar Season 5 solidly focused on Neal's newest and potentially most explosive lies, this installment left those questions in the pantry.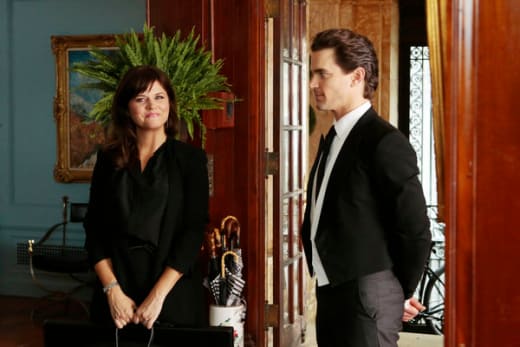 While I loved seeing Neal as a butler, his demeanor didn't strike me as someone who was internally plotting a potential future escape, or any of the other impulses he seemed plagued with at the end of White Collar Season 5 Episode 4.
By no means do I expect the content of this season to harp on Siegel's death or Neal's internal struggles, but with something as out of the ordinary as a death in the white collar division, you would expect the investigation to constantly permeate the storyline. 
But since we didn't have that; it was replaced with some interesting insights into El's past and her friendship with the wealthy heir whose new tastes tipped her off that he was an imposter. It was great to see El taking an active role in the case, whether as an instigator or facilitating the investigation. 
I was also intrigued by our rare look into the innards of the Burke household. If I remember correctly, we had a chance to see their bedroom a few seasons ago. Boy, have times changed!
El and Peter's playful moments aren't few and far between, but they did seem a little displaced, if only because they took place somewhere other than their living room or kitchen.
Peter's illness was the same for me. I didn't quite understand the purpose of having him out of the picture this episode or why the element was included. Sick Peter was quite entertaining, and Jones listing everything that could possibly be in Peter's medicine cabinet showed us another side of him.
While I think this episode was a breath of fresh air in its return to the good 'ol days of solving the case of the week, it did seem to break up the momentum that until now had Neal on a crash course with the truth.
What do you think, Collars?
C. Charles is a TV Fanatic Staff Writer. Follow her on Twitter.