Our favorite con man was treading on thin ice on White Collar Season 5 Episode 6, but it's not a space uncommon for Neal Caffrey to be traversing.
He's kept a lot of things from Peter - from music boxes to U-boats - so this newest endeavor was rather predictable. At least until Neal realized his secret didn't exist.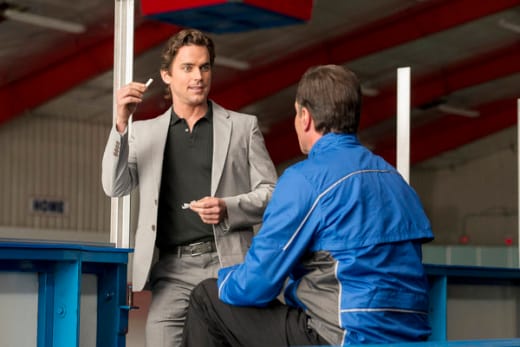 But it certainly begs the questions: If chapter 13 doesn't exist, what on earth have Neal and Mozzie been harboring all this time?
And why didn't their typically rather thorough research pick up on the fact that the codex author was so superstitious he nixed writing a thirteenth chapter in any of his works?
Seem rather uncharacteristic, doesn't it? Like in an almost unbelievable way.
I knew Hagan was going to get the drop on Neal at some point. I've been saying it since White Collar Season 5 Episode 1. What better way to do it than frame Neal for stealing something that no one can prove exists! What exactly was it that Mozzie and Neal stole? Did Hagan really know chapter 13 was a farce?
Maybe those questions will get answered as we pursue Neal's bold statement that he wished to cut ties to all his apparent masters. I still don't quite understand how that's going to fit into the narrative, and it certainly didn't make itself any more clear during this installment.
What was becoming a bit clearer was Neal's affinity for our book worm, Rebecca. Anyone notice she's got red hair and looks a lot like our now London-departed Sara? I have to say I was taken aback when Mozzie advised Neal to keep his heart off his sleeve.
Why do I get the feeling it's Mozzie trying to pull Neal along into evacuating the New York scene?
It's this strange push and pull that continues to compromise the momentum of White Collar Season 5. It's as if the show started with a clear purpose that has become increasingly stalled by the added, often unrelated, elements  of Neal's struggles. Not to mention there are two major events plotting against Neal: theft and murder.
Even as these overarching elements of the season struggle to form a coherent picture, what hasn't suffered is the episodic theming. Figure skating would have never entered the realm of possible for this series in my mind, but watching Peter become a fake coach overnight was fun to say the least.
Tim Dekay seemed really comfortable on the ice, and it was neat to learn that Peter had some hockey skills. Now if only we knew whether or not it was actually him making those killer shots!
Hearing about El and Peter's second date, which apparently involved ice skating, was also a cute thing to drop into the episode, and it was adorable to see them recreate the date there at the end. 
Overall, it was a nice addition to the White Collar canon, but I feel like the show is holding back.
What do you think, Collars?
C. Charles is a TV Fanatic Staff Writer. Follow her on Twitter.