American Horror Story Review: Stronger United!

Carla Day at . Updated at .
Betrayals abound!
American Horror Story Season 3 Episode 9 was about allegiances and the fragile nature of them.
The Coven was originally introduced as a strong band of witches that stood by each other, but that's been shown to be a false appearance. From Fiona's assassination of her mentor to Myrtle's disbanding of the Council, it's about self-preservation with the Coven to fall back on.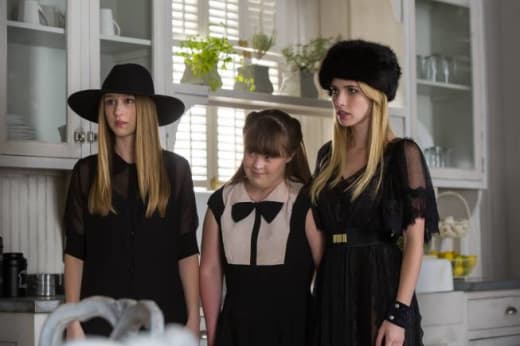 The story of Cordelia's husband ended up being much more interesting than I imagined. He was born into a Witch Hunter family. And even though we saw him kill the red-headed witch, he wasn't naturally proficient at killing. Instead, he was assigned to infiltrate the Coven and marry Cordelia in lieu of killing. He was an information gatherer.
He took a side gig with Marie Laveau, which upset the Witch Hunter Corporation. When he was told to kill Cordelia, he couldn't do it. He truly loves her. That was surprising, right? Maybe he really did want to have a child with her. He was furious when he found out his father was responsible for Cordelia's acid attack. He'd had enough and turned on both his family and Marie Laveau. And it cost him his life.
I give him credit for going after Marie on his own. He came very close to taking her out. And in a way she deserved it. Fiona came to her to seek out an alliance that would protect the Coven and her Tribe. Marie was so convinced the Witch Hunter was on her side that she dismissed Fiona's offer without a thought.
If Queenie didn't shoot herself in the head, Marie Laveau would be dead and Cordelia's husband would still be alive. In the past when Queenie used her voodoo doll magic, she healed. Will she heal from a gun shot to the head? I hope so, but that would be a lot to come back from. And, since Marie Laveau showed up at Fiona's house alone, it seems unlikely.
Will Fiona and Marie Laveau work together to fight off the Witch Hunters now? It would be amazing to see those two powerful women on the same side. And perhaps they can put Delphine back together again and use her new enlightenment to their advantage. I just hope that Luke's mother stays far far away!
I've enjoyed watching Nan and Luke's relationship grow slowly. When she was able to speak for him, their connection was undeniable. It was too bad that they had to use the information like that to haunt his mother. The mothers on American Horror Story season 3 have been despicable.
She firmly put herself on that list when she killed Luke. Though, his enema punishment put her there any way. She killed her own son! Add that to Delphine's imprisonment of her daughters, Kyle's sexual abuse by his mother, and Fiona's abandonment of Cordelia. There's not a good mother among them.
"Head" brought the Witch Hunters to the forefront and seemed like a transitional episode to set up a coming battle to close out the season. The witches will have to band together to win. And by the end, a new Supreme will be named and Fiona will either be near death or dead. Perhaps she can lead the Coven to victory and redeem herself before she goes.
Fiona and Marie Laveau together will be a force to be reckoned with!
Odds and Ends
What was up with Kyle and Fiona playing cards together? Did she use the dog to heal him or something? I was unclear about what actually happened there. Will he still love Zoe? He didn't make any indication that he did.
Myrtle is crazy after all. She got revenge on the council members for betraying her and helped Cordelia too. Cutting up their bodies though was a bit extreme. I guess she wanted to make sure they couldn't be resurrected.
Cordelia got her eyesight back, but lost her special sight. Will she wish she was still blind?
After fighting against evolving, Delphine finally saw the light. The tears in her eyes were genuine. And  if Queenie is gone, she's going to regret that it took her so long.
Misty continues to be the most intriguing of the witches. Could she be the new Supreme?
Despite having a horrible mother, it was honorable of Cordelia to continually remind others that Fiona is the Supreme and leader of the Coven.
Carla Day is a staff writer for TV Fanatic. Follow her on Twitter and on Google+.