It's difficult to remember while watching Arrow Season 2 Episode 8 that there is still another episode left before the mid-season break and, frankly, that all of this is merely setting up short break before the winter hiatus. Because it's simply amazing.
While watching "The Scientist," the '90s song "This Is How We Do It" kept rolling through my head. This is how all television should be written. There is an urgency to Arrow that is scarcely felt on other programs, one that drives the narrative and the intensity of the plot so dramatically that everyone who loves television should be watching. 
Every episode of Arrow is not spectacular, but they all serve very specific purposes and fit within the puzzle of the whole perfectly. Some need to settle in order for others to stand out. Considering what we have seen so far during Arrow Season 2 with Arrow Season 2 Episode 4, "League of Assassins" and tonight's installment, it's difficult to imagine what lies ahead, let alone next week.
On night's like these it's easy to wish for a two-hour mid-season finale, isn't it? To be left hanging is just all kinds of wrong. So we'll deal with it like heroes, right? Super!
I was one of the people who had misgivings about Grant Gustin's casting in the role of Barry Allen. I'm happy to say I stand corrected. His youth was used as an advantage, and the playful interaction with Oliver asking if his parents knew he was there and teasing Felicity that he would be carded at the bar helped remind us that the fact wasn't lost or meant to be.
Gustin did a perfect job portraying an eager young man interested in forensic science with a purpose -- to someday learn why his father was found guilty of the murder of his mother when he was certain of his innocence. Like Thea, Barry had to grow up far too young, and using his intelligence to learn as much as he could about his situation worked to his advantage.
Knowing fully well that viewers around the globe have been enamored with the pairing of Oliver and Felicity, the powers that be also used Barry as a romantic foil. Barry's pleasing demeanor and fresh good looks are in contrast to Oliver's more brooding and sexy appeal, and more of a simple match for Felicity Smoak. Oliver didn't like it, but given his current place in the universe he stood aside and let the sparks fly. 
Creators of YouTube videos and fan fiction not only cried in outrage, but gathered up their talents and set to task, because there's work to be done after all the material they were given to work with here, mostly with the subtle gestures and vocal inflections of Stephen Amell. Amell clearly had some feelings about the interloper into the Olicity pairing and had a great time playing his part.
But why was Barry Allen even in Starling City? Someone had the audacity to break into Queen Consolidated. 
The intruder to Queen Consolidated and the flashbacks to the island bear all of the markings of one Slade Wilson psot miracle serum. Is this be a red herring? Signs point to yes, but we'll undoubtedly learn the truth next week. Oliver has reason to believe Slade perished, but the man he was fighting not only wore a mask, but said he was following his brother who cured him with the serum. Given what they went through on the island, it's not a stretch to imagine Slade considering Oliver a brother.
However, the brother is far more likely to be Brother Blood, and the serum that saved him is the blood that Sebastian "Brother" Blood has been using to create his own league of minions. How did he get his hands on the serum, and in Starling City of all places? Perhaps that will the connective tissue between a living Slade and Brother Blood. If Oliver burned the remaining serum, it's coming from a blood donor. The original?
The flashbacks to the island served a great purpose this week, as we not only saw Oliver use the serum to try to save Slade, but we learned without a doubt that Slade had feelings for Shado. Shado suffered a bit of disillusionment with Oliver after she discovered Sara was the sister of Laurel and questioned why she was on the Gambit with Oliver. Does that mean their love burns brighter after they part with Slade in submarine or dies a bit? It makes the island scenes far more compelling.
Roy and Thea helped Sin find her missing friend, only to learn he had been killed. Although the police considered it an OD, Roy did not. Sebastian Blood was behind it. Roy went to The Arrow for help and for his request got an arrow into the leg. Considering the blood on the arrow, the reason he was shot (for telling Oliver he and his friends would search for the killer with or without his help) and the involvement of Sebastian Blood, I'm beginning to see a connection to the red hood he'll don and The Arrow.
Will Sebastian Blood want a vigilante of his own, and want him to be the color of blood? The Arrow turned his cheek to Roy, so it might be time for him to join forces with someone who will give him a greater backing than expecting him to be his ears on the street to placate his desire to help The Glades. Perhaps his involvement with Brother Blood will be what eventually leads Oliver to discover the darker side of Sebastian. I just hope he doesn't use his serum on Roy before Oliver get's wind of it.
As Oliver attempted to reintroduce Moira to Starling City society, Isabel let him know it was a bad idea for the corporation. She later let him know, at a very empty party at the Queen mansion, that it was a bad idea for Moira, as well. She wouldn't have shared that side of her thoughts earlier, as there is no love lost between Moira and Isabel. Perhaps a reveal will be coming about an affair between Isabel and Robert Queen.
Malcolm's reappearance in Moira's life was met with the full force of the Queen ire. He showed up to force her to tell Thea about her paternity, but first took the time to boast (or whine, it was hard to tell) about his guilt at having slept with Moira being the catalyst that sent him to Nanda Parbat, making him the lovely man he is today. Tsk tsk tsk.
Moira took that information and had her "man" make contact with Ra's al Ghul and the League of Assassins. One phone call later (because Ghul is easy to contact, apparently) and now Merlyn's a wanted man. Malcolm should have known not to poke at the mother bear, because she would lash out with everything she had to protect her cubs. I wonder how long it will take for the news to get to Sara and then back to Oliver.
It all came down to a fight between the super-juiced intruder and The Arrow, and The Arrow was left in a heap, injected with an unknown substance. Is it some form of the serum? Is it whatever Brother Blood uses in his blood to prepare his minions, taking them to the brink of death (if not the whole way) before bouncing back as super soldiers?
Felicity took control, stopped Diggle from calling 911 and called the only person she thinks can truly help -- The Scientist. 
Other things of note:
Lance hasn't made the Oliver/Arrow connection. Otherwise he wouldn't have asked Felicity to contact their mutual friend.
The irony of Roy's comment to Thea wasn't lost on me -- Thea: Well, you know us Queen women. Nothing gets to us. Roy: Then you must take after your dad. 
This marks the first time when I've craved more island scenes instead of less. Perhaps two separate series are warranted.
Even though Malcolm has the League of Assassins after his (ahem) ass, Moira should still consider telling Thea the truth herself before someone else does it for her.
The scenes between Barry and Felicity were heartbreaking because of how much I enjoy the idea of her with Oliver, but after seeing the former together now realize how unlikely it is that the latter will happen.
How long until Felicity uses the formula Barry suggested for new arrows for Oliver? After his arrow crumpled going into the intruder's leg, she needs to get on that.
Wasn't it great how much thought Barry put into the Vigilante (he didn't know the new moniker yet), his choice to wear green and having partners? The look on his face as he woke up was like awaking to a dream.
Don't forget to keep an eye out for the next Arrow Round Table, and if you aren't already doing so, follow us on Twitter.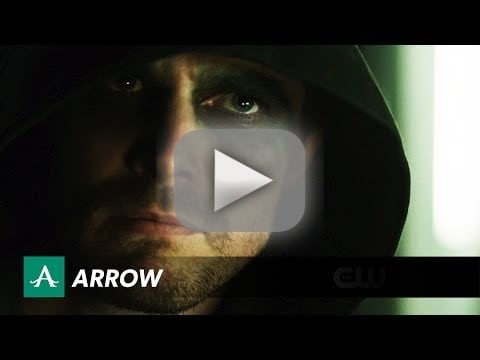 Alright everybody! It's your turn. Do you share my appreciation of the hour and the introduction of Barry Allen? What are your expectations of next week? Hit the comments!!
Carissa Pavlica is the managing editor and a staff writer and critic for TV Fanatic. She's a member of the Critic's Choice Association, enjoys mentoring writers, cats, and passionately discussing the nuances of television and film. Follow her on Twitter and email her here at TV Fanatic.