Castle Q&A: Jon Huertas on Directing, Raising The Lanie/Esposito Stakes
Jim Halterman at . Updated at .
Jon Huertas is moonlighting from his gig on ABC's hit series, Castle.
Don't worry, though, he's not venturing far: the actor, best known for playing Detective Javier Esposito on the long-running crime drama, has stepped behind the camera to helm a short film as part of ABC's Home For The Holidays campaign.
The initiative, in support of Disney's company-side "Heroes Work Here" program, features five short films written and directed by vets who each tell a story about men and women serving in the armed forces coming home for the holidays.
Huertas' film, A Homecoming, features a young vet who is anxiously awaiting the arrival of a close friend who he served time with overseas. The film was written by First Lieutenant Donna Bachlor.
I talked to the actor about the film, what's next for the Esposito's romance with Lanie and his love for music, including which big Broadway musical he'd like to be a part of when they adapt it to film.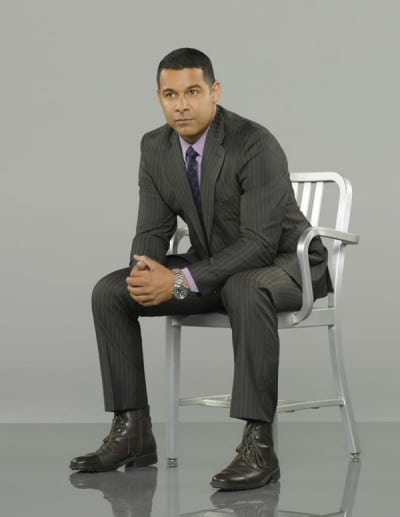 TV Fanatic: How did the Home for the Holidays movie come about for you?
Jon Huertas: For me, I've been dealing with ABC and the producers on my show to direct something, maybe an episode of Castle, and I ran into this ABC executive named Bob Schefferine and he told me about this thing they were doing and trying to get all veteran directors and writer and he asked if I'd be interested in directing one and I said yes. I went over some of the ideas with them and this is the one that I was drawn to.
TVF: And you were in the service, right?
JH: Yeah, it's been awhile now. I was in the service eighteen years ago, 1995 was when I got out. I spent eight years in the Air Force and it definitely molded and shaped me into the person I was back then, the young actor in Hollywood. It gave me the type of discipline and perseverance to keep trying and hopefully be successful. That's why I'm so pro-Hire A Vet. I started working with this campaign when it first started and trying to help veterans in the work force. The type of character that a veteran comes out of the service with is different from someone that doesn't have that same work experience or life experience.  
TVF: This time of year I feel like we need that reminder to help other people and I thought your film really accomplished that, too.
JH: Yeah, I agree.
TVF: Since you're used to be in front of the camera, do you think acting informs being a director.
JH: I think the one advantage I have is that now that I've been acting professionally for awhile, it helps to speak the actors' language when you're trying to get a type of performance. It helps to communicate with the actors and, for me, I understand what an actor goes through in doing a scene or to convey a certain emotion. I think that helps a lot just the understanding and patience with actors.
I didn't go to film school but I feel like my work in the industry has been sort like of a film school. Castle has afforded me the opportunity to follow around our camera operators and camera team for the last six seasons as well as shadow some of the best directors in the business so Castle has been a really good school for that.
TVF: And you have a cameo in your movie. When did you decide you wanted to put yourself in there?
JH: That was the ABC executives. They wanted me to be in the film from the beginning but I didn't want to be in it, or I definitely didn't want to have any lines. They said 'We want you in this thing' so I thought the easiest and best one would be the barber. I used to cut my own hair for years and I cut some of the guys' hair when I was in the military so I knew how to work the scissors and a comb.
TVF: I have to ask a Castle question and get an update for Esposito and Lanie. What's going on with these two?
JH: I think that Esposito and Lanie have tried to see what their relationship would be like and at this point, with everything they've been through, I don't know that this is the right time for these two. That episode when we both had doppelgangers, it really shook Lanie up a little bit where she doesn't even want to hang out with my character. It's Castle so they might throw a bone or a wrench in the gears and shake things up a little bit and cause some stakes to be raised between Lanie and Esposito so we'll see. I've been hearing some rumblings about that. We might see Esposito with someone else…or maybe with Lanie.
TVF: Well, that's always a way to get a lady's attention is to hook up with someone else.
JH: Exactly!
TVF: And talk to me about your singing Jon. I know you put out some music recently.
JH: I grew up loving musical theater and have been doing it for quite awhile so for me music and acting go hand in hand. I grew up watching the old Hollywood musicals and I love Bollywood, which I think keeps that Hollywood tradition going. Whether you're a singer, actor, dancer, you're doing it all onstage. It's nothing new for me but now with the technology I'm able to build a studio in my garage or back house and record an entire album. With ITunes, you can put out an album now. It's much easier than it was in the day. I'm not trying to change careers or anything but it's nice to be able to do some music, put it out there and hopefully people will enjoy it.
TVF: Where can your fans find your music?
JH: The website is TheJonHuertas.com and there are links there to Itunes and Amazon. You can also get it at Walmart.com.
TVF: You said you love old Hollywood musicals. What's your all-time favorite?
JH: My favorite musical of all time is Camelot. I just love that musical and I love the story. I've always been attracted to the King Arthur lore. My favorite modern musical is In The Heights. Lin-Manuel Miranda wrote that and I just love the story behind how he conceived the musical and how it came to be and how it ended up on Broadway. It's a great story in itself. I know they were trying to make a movie and if they get that in development I'd love to take a shot at being in the movie version.
TVF: Let's make that happen!
JH: Let's do it!
To see 'A Homecoming,' visit ABC's Home For The Holidays website. Castle airs Mondays at 10pm on ABC. For more on Jon Huertas, visit his website. 
Jim Halterman is the West Coast Editor of TV Fanatic and the owner of JimHalterman.com. Follow him on Twitter.