Welcome back to the TV Fanatic Grey's Anatomy Round Table!
Our review broke down Grey's Anatomy Season 10 Episode 12 in detail. Now, TVF's Christina Tran and Steve Marsi, along with Jarrod Mitchell, are back for a Q&A.
Read their answers to the questions and weigh in with yours!
----------------------------------------
What was your favorite quote or scene from "Get Up, Stand Up"?
Christina: Justin Chambers takes the cake on this one for two awesome scenes. The first was with his father where he was absolutely spectacular. Secondly, I loved the Jolex scene outside the barn. It was perfect.
Jarrod: When Alex rolled his eyes at Jackson's "I love you" speech to Kepner. Honestly, that eye roll expressed exactly how I was feeling. Another hand goes to Meredith and Cristina finally putting their issues behind them.
Steve: Meredith and Cristina, burying the hatchet. It was a long time coming.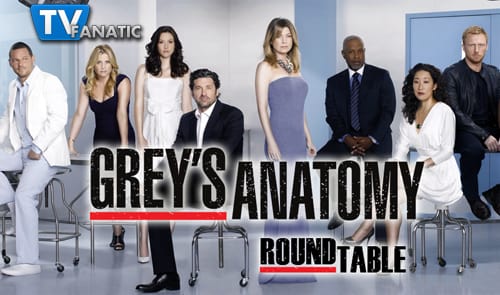 What did you think of Jackson's moment of truth?
Christina: It was predictable. Honestly, I didn't like it. I get that sometimes in life we can't let the moment pass us by otherwise it'll be gone forever, but Jackson assured Stephanie so many times already of where his heart was. I couldn't help but feel sad for both Stephanie and Matthew.
Jarrod: Not. A. Fan. Honestly, Stephanie gave him an out last season at Joe's bar and he stayed. April was giving up her relationship to give him a chance and once again he rejected her. This man-child has had not one, but TWO options to be with April and on the day of her wedding he decides to do it with her friends and family watching her and Matthew up at the altar? *insert Alex eye roll*
Steve: Agree with Jarrod and insert Alex eye roll #2. I know Jackson's not perfect and that feelings get hurt over the course of romantic relationships but that was uncalled for. You could also see this thing coming a mile away, which didn't make it feel that authentic for the character's perspective.
Cristina and Meredith finally put everything they had to say about one another on the table. Does it mean they are officially done fighting?
Christina: I hope so but I feel like we are just scratching the surface of their crumbling relationship. Sure, we grow up and sometimes grow apart. People just change. It sucks but it happens. I would just like to see them not hating on each other.
Jarrod: By the looks of it, I would say so. I think some more issues about Meredith's trial needing to be sorted out that could cause bumps between Merstina, but I think on a personal level they'll be fine. They just need to find their groove even though it only has 12 episodes.
Steve: Done fighting, yes. Although their friendship may never be what it once was, that's just life sometimes. It's time to reconcile that reality and at least share the mutual respect and love they always have had even under changing circumstances.
Derek got a call from the President of the United States. What do you think is in store for him?
Christina: I'm not entirely sure but I'm excited to find out more. Maybe the President needs his help for a special case involving a family member. I hope it plays out and is a well-developed storyline.
Jarrod: As long as they don't do a Grey's Anatomy-Scandal crossover, then I'm fine with what's to come. As long as Derek's getting a storyline and a chance to get his career back that got ruined since the Alzheimer's trial then things should be looking up.
Steve: Gotta be a case with a personal connection to the President, right? Re: Jarrod's comment ... while I wouldn't want D to appear on Scandal, it would be great if the President had a brief cameo at one point, just on the phone in the Oval Office, and were played by Tony Goldwyn.
On a scale of 1-5, rate the first half of Grey's Anatomy Season 10.
Christina: 4. Like the winter finale, this season has been good but not great by any means. There have been many changes such as the greater focus on the interns, broken marriages and rocky friendships. I'm sitting tight, though, and am ready to see what else Shonda and company have up their sleeves for the remainder of the season.
Jarrod: This season at it's best has been mediocre. However, with them adjusting to 15 series regulars it's hard not to have the writers jumping back and fourth. Though they need to have more consistency (e.g. Callie/Arizona flashbacks of a miscarriage), I think the writers are juggling it the best they can. They just need to find their footing and work out what to do with all these characters.
Steve: 6. Some flashes of brilliance. Some instances where it feels like the show is running out of ideas. Some great character moments. Some cases where the amount of characters is just too great. Not the must-see TV it used to be, but good enough to keep you invested.