Welcome back to the TV Fanatic Grey's Anatomy Round Table!
Our review broke down Grey's Anatomy Season 10 Episode 11, "Man on the Moon," in detail. Now, TVF's Christina Tran and Steve Marsi, along with Jarrod Mitchell, are back for a Q&A.
Read their answers to the questions below and weigh in with yours!
----------------------------------------
What was your favorite quote or scene from "Man on the Moon"?
Christina: April rocked her speech to her sisters. I loved when she said, "I'm not an ugly duckling anymore. I'm a swan!"
Jarrod: I'm with Christina. April's speech was great, and the reaction from Arizona, Cristina and Meredith was priceless when she said they "are her people."
Steve: Both of those Grey's Anatomy quotes - the ugly duckling/swan comparison and talking about "her people" - are vintage Shonda Rhimes. She may not run the show day-to-day anymore, but with lines like that, the writers make the creator proud.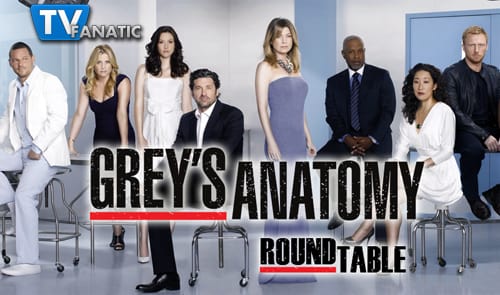 Richard convinced Bailey to take her meds. Is she in the clear now?
Christina: I certainly hope so, but I'm betting her condition will continue to worsen first. She will get through it with colleagues like Richard and her husband.
Jarrod: I don't expect anyone to be "in the clear" after just beginning a swallowing down some pills, but I'm sure we're on our way from moving on from the OCD storyline.
Steve: I think so. That should help her better control, if not cure, the symptoms and function more constructively. Kudos to Richard for being there for her.
How surprised were you that Shane and Cristina actually slept together?
Christina: I was shocked. I sincerely believed that the kiss between Shane and Christina on Grey's Anatomy Season 10 Episode 10 was a one-time thing. Boy, was I wrong! Have they run out of storylines for Cristina Yang?!
Jarrod: No, I'm not surprised. Cristina's character has been slowly been target for assassination since the season began. Why not add another reason to destroy everything that goes against her character?
Steve: Pretty darn surprised. Did not see the writers actually going there, nor do I know how I feel about it.
What did you think of Alex's dad's return?
Christina: I'm always down to see more on Alex's backstory. Thank goodness he was there when his dad could have really hurt Jo. His return is going to get messy for Alex, but I think it will also mean more Jolex screen time.
Jarrod: As much as I enjoy going into Alex's background, I feel as though it's just formed its own attachment and just ruined Alex and Jo's relationship. With no time for me to see them as a couple, how can I root for them as a team when all it's done is tear them apart?
Steve: Sort of with Jarrod on this one. I love Karev and any screen time his personal story gets, but the direction it's going with Jo makes it difficult to stomach sometimes, like we're being set up for heartbreak and disappointment instead of hope for the future.
Make one bold prediction about the midseason finale.
Christina: The Mapril wedding actually happens! Hey, a girl can hope, right?!
Jarrod: The ghost of Heather Brooks comes back to haunt Shane and torment him to death.
Steve: Meredith and Cristina finally reach some sort of detente that lasts and allows them to be each other's person, Grey's Anatomy Season 1 style, for the rest of the season and Sandra Oh's tenure on the show. Hey, a guy can hope, right?!