Homeland Review: Still in the Game

Carla Day at . Updated at .
Is Brody on a suicide mission?
In Homeland Season 3 Episode 10, Brody began a dangerous journey with no guarantee of success on any level. He could be killed at any point during the mission by making a single wrong move or if his true purpose is uncovered.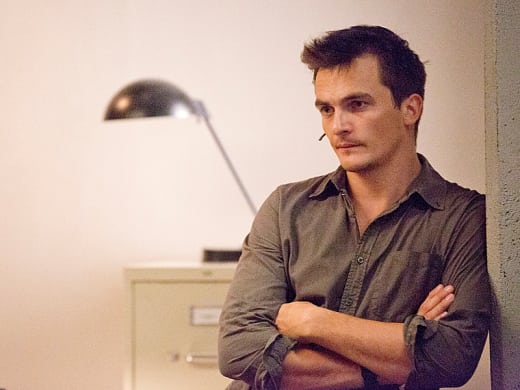 Brody's infiltration of Iran ended up being more dangerous than Saul or the team expected. It was never clear that Brody or any of the team would make it out alive. I expected Brody would survive, but the threat felt real throughout the hour. Anything could have happened and it did.
The intensity of the mission was heightened through the changing perspectives that we were shown. The combination of video footage from the ground in Iraq, team members' cameras, the drones, and of mission control's reactions provided authenticity. As the situation unfolded, I felt like I was watching a live intelligence operation underway.
Brody's mental state was questionable as they set out. He didn't act like a Marine at all. He was hesitant, openly afraid, and didn't even write a letter to his loved ones. He was there, but his commitment was questionable. Even as the local police came upon him in the truck, I wasn't sure if he was onboard or not.
Brody's group held out as long as they could, but to protect the mission they said "Good Night." The team covering them took out the police and the mission was back on schedule, though it wasn't without a loss of life. That caused more problems back in Washington than it did on the ground.
Senator Lockhart was brought up to date on Saul's plan and sent by the White House Chief of Staff to oversee the mission. Lockhart showed his ignorance of the CIA when he arrived, though he showed a different side than before. It was no longer in his interest to fight Saul. Whether the mission was a success or failure, the fallout  would end up falling at his feet after his confirmation.
Brody's hesitancy disappeared after the truck hit the IED or mine. His training and loyalty to his teammates came rushing back and Brody the Marine returned. He saved his teammate's life and was in the zone. He knew what needed to be done and did it. There was no hesitancy. None at all.
And that led him to make a crucial in the moment decision. He disobeyed orders. He knew he could get to Iran and complete his mission. He didn't care that he didn't have a way out. He had faith in himself to get his job done and in Carrie that she would find him a way out.
Carrie and Brody really are meant for each other, aren't they? Neither of them is good at following orders and both of them are guided by their intuition and heart. Brody wants to earn his redemption. He knew that getting to Iran and completing his mission was his only hope of getting any sort of normal life back.
Brody doesn't have an easy path ahead of him. Javadi may have to help Saul achieve his goals, but the asset is going to do it his way. When he killed the American posing as Al Qaeda in the cell, Javadi proved once again that he's a killer and he will make his cooperation as painful as possible for Saul.
It's going to be a crazy ride to the end. Will Brody be able to pull off the assassination? And if he does, will he find a way out of Iran? Carrie will do anything that she can to help him, but will it be enough? Will her love for Brody and the new added stress of getting him out cost her their baby?
Odds and Ends
The Awkward Award goes to Quinn. I understand why he looked at Carrie's medical records. He felt guilty over shooting her, but did he have to mention the pregnancy to her? He's genuinely concerned for her, but that may not have been the best move.
I love the dynamic between Carrie and Quinn. With Brody in Iran, I hope we get to see them together more. He'd be a much better partner than Brody.... 
Black Jack Gum! 
Carrie to Lockhart: Here at the Agency we call that recruiting. 
Carrie must get her emotions under control. She's going to lose her spot in that room if she doesn't get better at hiding her feelings.
After trying asking Brody not to be it on her to get him back, she looked super-excited that he made it across when she told Saul. It was a risky move, but the play is alive.
Should Carrie have asked Fara to put her family at risk to help Brody? Will she ever tell her the assistance is for Brody? Or, will she leave that a mystery?
Carla Day is a staff writer for TV Fanatic. Follow her on Twitter and on Google+.