The Big Bang Theory Review: Scientific and Houseguest Wonder Blunders

Carla Day at .
Why is Raj still single?
Sure, he couldn't speak to a woman without alcohol for most of his adult life, but now that's not a problem.
On The Big Bang Theory Season 7 Episode 10, Raj proved that he would be a very attentive, caring, and affectionate partner while staying with Howard and Bernadette. Maybe ... too accommodating. I hope that this side of Raj is put to better use with an appropriate girlfriend.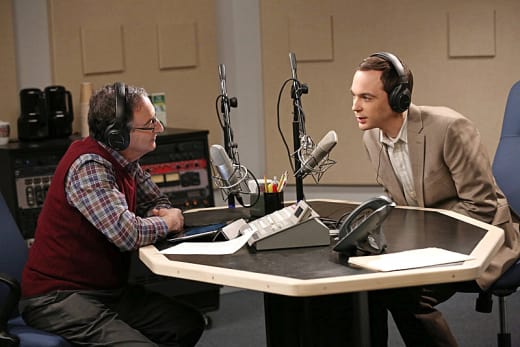 "The Discovery Dissipation" was one of my least favorite episodes. Raj's experience at Wolowitz household was definitely the better half of the episode, but just about everything else fell flat for me, including the two guest stars. 
The Wil Wheaton helping Sheldon bit wasn't even slightly funny. It was kinda sad. Wil came across as patronizing and Sheldon acted like a 10 year old kid. If that's the tone they were going for then they succeeded. But, it wasn't funny or faintly interesting. The interaction was uncomfortable to watch and the train playing only made it worse.
Sheldon's general reaction to his "lucky" discovery in  The Big Bang Theory Season 7 Episode 6 was understandable. While I'm glad that it wasn't just dropped like so many other events on the show, it wasn't particularly funny. Annoying Sheldon in large doses is too much. He needs funny quips to at least keep it a little more light-hearted.
I'm not a fan of Barry, so I wasn't happy to see him again. Though, I did crack up when he said, "There he is!  My favorite superhero -- the Retractor! Once was enough for that joke.
Raj's time with Howard and Bernadette started out great, but then it seemed to drag on a little too long. I wonder if the episode would have been better if a third storyline was included and the two primary plots were shortened a bit.
Here are a couple of my favorite lines from Raj's stay:
Raj: I'm being a good houseguest.
Howard: No, you're being a better husband than I am.
Yeah, we were totally fine half-assing our marriage till you showed up.

Bernadette
Raj needs to find a human partner, because his relationship with Cinnamon is disturbing. And, he should never ever ever use spit to groom Howard's eyebrows again!
Did you enjoy the episode more than I did? What were you favorite bits or lines?
Check out our The Big Bang Theory quotes section!
Carla Day is a staff writer for TV Fanatic. Follow her on Twitter and on Google+.