The Real Housewives of Beverly Hills Review: Just One of the Girls

Christine Orlando at . Updated at .
Did The Real Housewives of Beverly Hills know it was getting two Housewives for the price of one when it hired Joyce Giraud?
We recap all the trash talk and inappropriate touching in our TVF +/- review.
Honestly, what was Lisa Vanderpump thinking? Dinner parties with this group range from wildly uncomfortable to total disaster. Why would she decide to throw one to mend fences? About the only thing this dinner did was give her staff plenty to gawk at. 
"Guess Who's Coming to Dinner?" No need to guess. It was Joyce's husband Michael who obviously craved more screen time on The Real Housewives of Beverly Hills Season 4 Episode 9 as no one could get him to pipe down at dinner. Minus 20. 
Yeah, I know. Brandi Glanville says things that are completely inappropriate and once she's had a couple of drinks she lets the F-bombs fly, but at least when she stays away from race issues she's actually kind of funny.
Joyce is just full of self righteous indignation…and throw in her husband who is bound and determined to protect her from these evil but gorgeous women and the girl makes me want to change the channel. Minus 17.
Don't even get me started on her lamenting how her size double zero dress is just too big for her. 
Plus 25 to Kyle Richards. She's right. Cheeseburgers all around. 
Could someone add extra fries to Carlton's order too. Watching her try on that bikini was scary on multiple levels and her commenting that, "It's not really flattering on my ass" didn't even make the list. 
First off, her mid-section looked like nothing more than skin pulled over her ribcage.  There's being fit and then there's….that. Yikes! Minus 11.
And that's not even close to the strangest part. Take a look at the picture above. The hand feeling Carlton's ass isn't her husband's. It's her mother-in-law's! 
But according to Carlton, it's not odd. "She's pulled babies out of my vagina."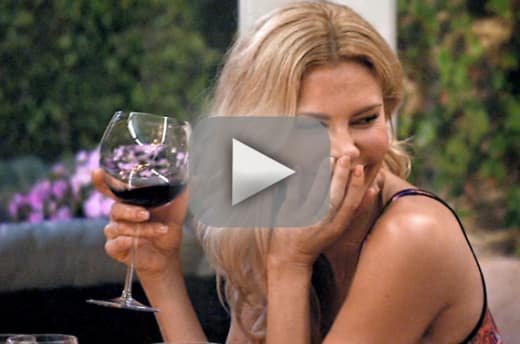 Minus 43. She brought both her husband and mother-in-law to the Hustler sex toy and apparel store.  I'd say odd is an understatement. 
It all made Yolanda Foster's anniversary gift to her husband of sexy pictures of herself seem blissfully normal. Plus 21. Although something about David's reaction made the entire sequence look like something straight out of a Viagra commercial. 
Compared to Joyce's whining and Carlton's sexcapades, the rest of the Housewives were almost boring.
Kim Richards' dog Kingsley was still at doggy boot camp so she decided to learn how to take the alpha role in her life. First step…race car driving. Plus 27. Go Kim! That looked like fun.
What did you think of the new Alpha Kim? Are you team Joyce or team Brandi? How about team sanity?
Episode total = -18! Season total = +20
C. Orlando is a TV Fanatic Staff Writer. Follow her on Twitter.