On White Collar Season 5 Episode 7, Peter found himself in a unique situation: dealing with an ex, as Jill made some major waves.
For once, Neal wasn't the one trying to deal with his past or his girl problems... or was he?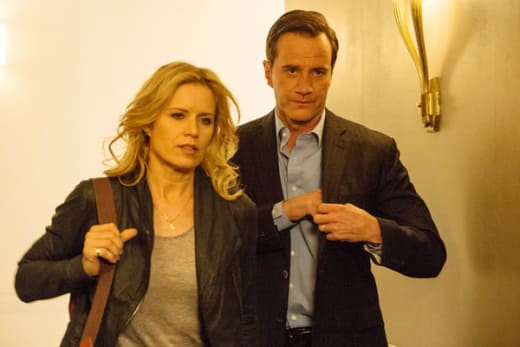 We'll get to Neal in a minute. Peter and El were really the focus of the episode for me, if only because I was a little surprised at how poorly she took Jill re-entering the picture.
Of course no one wants to see an ex - whether theirs or their spouse's - during an anniversary dinner date. Maybe that's where - and why - El anxiety became uncharacteristic. I only say this because, if you can remember all the way back to White Collar Season 4 Episode 7, El practically led the charge in making it look like Sara and Peter were having a legitimate fling for their case.
The El that appeared today took everything much more personal.
Could this be because Peter and Jill had history? I can see why it might feel more urgent to keep an eye on Peter in that situation. Then again, I have always thought of her as the wife who takes everything in stride. This just seemed out of the blue.
For this reason, I thought that portion of the storyline fell a little flat. I didn't buy fully into the idea that Peter and Jill had any significant past at Quantico, which made El's actions really stick out. That made it hard for me to take the fact that this installment hinged on the partnership between Peter and Jill.  I have to be honest, it kind of made me tune out without realizing it.
That said, I would have really liked to see more of Neal and Rebecca. I don't know why, but Rebecca is starting to grow on me a bit. If only Neal and Mozzie weren't lying to and using her to learn more about that codex! What is it with Neal and red-heads?!?
I had higher expectations for this week's installment, but I can't say it was a complete wash; Willie Garson's directing job was superb. Congrats on that!
Next week looks like it will be what it takes to take things to the next level. What do you think, Collars?
C. Charles is a TV Fanatic Staff Writer. Follow her on Twitter.