American Horror Story Review: A Little Calico Cat....

Carla Day at . Updated at .
Ding dong a witch is dead! Dead dead!
Due to the seemingly never-ending resurrection after resurrection, I wasn't sure if we would ever see an ultimate death.
Even on American Horror Story Season 3 Episode 12, there were two resurrections. I didn't keep track, but if I had to place a wager on the most used spell throughout the season, my money would be on Vitalum Vitalis.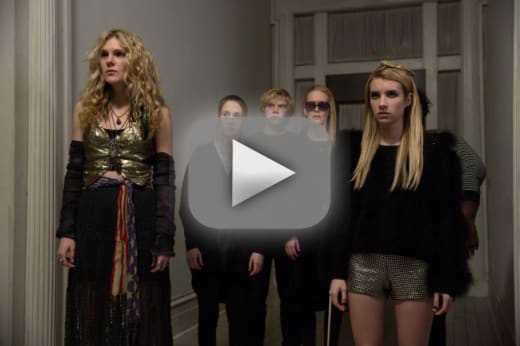 At the core, the story has been about Fiona and her mortality. When she returned to the Academy she brought the troubles with her as she worried about containing the next Supreme. She was either going to succeed in extending her life or she was going to die. I'm glad it was the latter.
At first, I was disappointed that it was the Axeman that took out the Fiona, but it ended up being a quite fitting death. Her last attempt at normalcy and love ended her life when she turned her back on him. In the end, Fiona needed and wanted only herself. And that selfishness brought about her demise. It wasn't about witchcraft or power, but her lack of humanity.
Physically killed by the Axeman, but it was Cordelia's hands on the handle. Just when it appeared that Cordelia sacrificed her sight for nothing, she had a vision that gave her the insight to protect herself and the Coven. She foresaw Fiona's destructive plan to take out the Coven and used the information to take out her mother.
And if nothing else, I have to love that Fiona was killed outside the Coven because it ensured she couldn't be resurrected. It provided the set up for the best line of the season when Misty said, "I can't bring someone back once they're gator shit." Best line ever! A perfect ending for Fiona. The Axeman didn't get off either. After killing countless people, he found himself killed by the Coven of witches once again.
Fiona underestimated Cordelia's strength and it cost her her life. Cordelia may be physically blind, but she began to see things more clearly than ever. In addition to taking action against Fiona, she was able to save Misty with Queenie's help. And with Zoe's return to the Academy, Cordelia called for the Seven Wonders trials to anoint the next Supreme.
In addition to Fiona's death, both Marie Laveau and Delphine have been removed from the Coven's worries. Papa Legba put them into their own personal hell. They will live out eternity in Delphine's attic. Marie will have to kill Delphine's innocent daughter over and over again while Delphine suffers the loss repeatedly. Seems fitting to me!
It appears the Coven is in a better place with Fiona gone, but it remains to be seen if it will continue or not. The status of the Coven will be determined by the next Supreme. Each of the witches have shown several of the abilities necessary to become the next Supreme, but they each have a dark spot in their hearts too.
Who is the next Supreme? 
Carla Day is a staff writer for TV Fanatic. Follow her on Twitter and on Google+.