American Horror Story Review: Bloody End

Carla Day at . Updated at .
Should the Coven be saved?
In American Horror Story Season 3 Episode 11, it became more difficult to find a reason for the Coven and the Academy to continue to exist. It's turned utterly dysfunctional. Even those with noble intentions appear to have something wrong with them.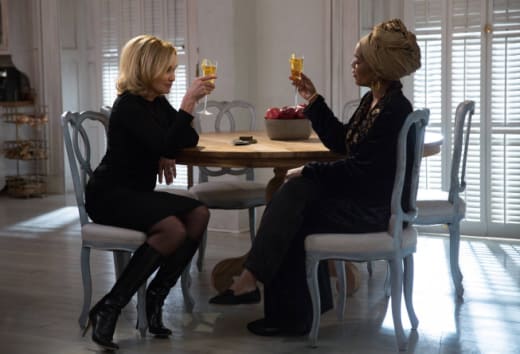 Fiona and Marie Laveau are a formidable pair when they are working together. I'm not sure anyone could defeat them as a pair. In American Horror Story Season 3 Episode 10, they brought down the financial backing of the Witch Hunters without much effort at all. They finished the job with the Axeman's assistance. It's a tad scary how easily they eliminated the threat.
It's baffling to me how they don't recognize and handle their internal threats as easily. Perhaps their arrogance blinds them to what's happening at the Academy. Marie Laveau was taken first. Will Fiona avoid the same outcome as her friend?
At Nan's funeral, Queenie showed up with her "pet" Delphine. Somehow during Hank's rampage, Queenie survived. She didn't die from the gun shot wound. Was it the silver bullet? Her Voodoo Doll talent? Or, something else? However it happened, she survived and because of that believes she could be the next Supreme (like everyone else thinks about themselves).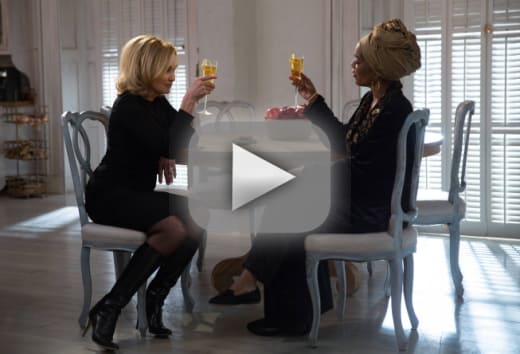 After the softening of Delphine, she returned to her blood lust in the present day. I'm not sure it was necessary to know how Delphine first fell into her blood lust given how late in the season we are. It did supplement the story and further malign her character, though.
After feeling mistreated as a servant, Delphine found herself again when the gardener cut himself. She tied him up in the attic and cut off his toes. Between that and the brown soup, Delphine had reverted to her evil self. Her use of the attic also brought the return of Spalding. 
At first I thought Spalding and Delphine would follow in Fiona and the Axeman's path to love, but Spalding's actions were much more nefarious. He helped Delphine get rid of Marie Laveau in order to take the baby as his own live doll. CREEPY! The poor kid was in a bad enough place with Marie Laveau and now he's being raised by a dead, crazy killer.
The Coven continued to lose people. Both Marie Laveau and Misty are buried alive. Zoe and Kyle took off on a bus to Orlando. That leaves only Fiona, Myrtle, Cordelia, Queenie and Madison at the Academy along with a dead Spalding, Delphine and the Axeman. What a group!
The Coven and the Academy are poised for failure. Their only hope seems to be if Cordelia's sacrifice re-establishes her second sight. Perhaps she can use that to bring order to the Coven's leadership transition and spur a resurgence of the Coven.
Who is the worst person?
Carla Day is a staff writer for TV Fanatic. Follow her on Twitter and on Google+.