Once again, Arrow Season 2 Episode 12 proved that I have no ability whatsoever to predict the path of this show - and I'm perfectly happy to be wrong.
It's comforting to know I'm in good company. Oliver has been as wrong as me in many ways, most especially his belief that trickery and attempts to emulate those who taught him would be effective ways to handle situations that others would normally address the truth.
In the case of Roy, truth won out in the end... despite all of Oliver's attempts otherwise. So Oliver is unmasked, Roy is on Team Arrow and I'm wrong that Slade or Blood will get their dirty little hands onto Roy. It's all good!
Let me if you agree, but I thought it was another wasted trip to break Ben Turner (AKA Bronze Tiger)  out of prison just to steal the earthquake machine for Dr. Evil. Alright, so it wasn't Dr. Evil, but his name wasn't important because he was doing the best damn Dr. Evil impression I've seen since the last Austin Powers movie.
Amanda Waller ended up recruiting Turner for a "squad" which I suppose will be the Suicide Squad, but we have so many other entities tossing around out there already unaccounted for (H.I.V.E., for instance) that I'm not even ready to delve into what that might amount to down the road. Maybe they'll wind up on The Flash.
Laurel is still drinking and I don't blame her. When I lost my job, that's what I did. From a high point of thinking her old partner could offer her a job to a low of discovering she might be disbarred (for something like moral turpitude) Laurel's days just keep getting worse. Lance tricking her into an AA meeting on the pretense of dinner was a low blow. I'd suggest dinner and then screwing her over.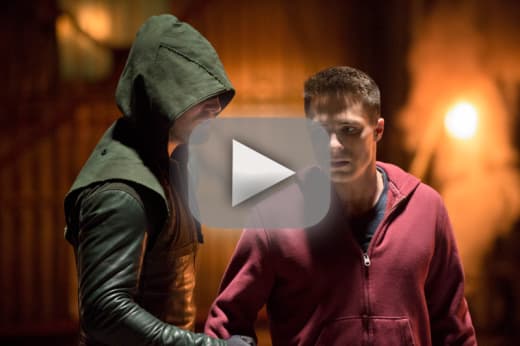 With Walter's help and Thea's moral support, Moira is entering the mayoral race against Sebastian Blood. That's going to be the catalyst for the true Blood to come out (which just reminded me that he was ON True Blood -- crazy!). Oliver will have a difficult time throwing his support behind Blood when his own mother is running, especially with Walter's backing. It's always been family first.
That's likely to toss a wrench into Blood's plans and hopefully kicks things up a notch for Slade to drive his own agenda to hurt Oliver into overdrive. Blood's true colors will start to bleed through his squeaky clean outer shell and eventually Laurel will be vindicated for bringing him into the spotlight.
By then it will be too late. Sara has already hit town. I wondered who Oliver called and was very happy to learn it wasn't Blood because he as my first thought. Of course, I was already wondering how Laurel was going to get into her apartment when Oliver had her keys. I think far too much about some things and not nearly enough about others.
I can't even imagine what's going to happen between the sisters. The discussion about Oliver alone could take several episodes. They have to toss in where Sara has been, why she's been hiding, why Laurel is a drunk and myriad of other topics. It's going to be a kick ass emotional showdown, don't you think?
Thea, who remains in the background, had a purpose tonight. She drove Moira's decision to accept Walter's proposal to run for mayor and Roy's love for her not only set him straight but pushed Oliver to reveal himself to Roy. He hoped their shared love for Thea would be the connection needed for Roy to do the right thing and to keep his secret.
The flashback scenes were shown bringing Oliver and Slade closer again as friends, which means that in spite of that the Mirakuru still had it's way with him causing Oliver to put an arrow through his eye. We can only hope that Roy has enough love around him to save his brain from turning to evil mush. 
Roy and Oliver standing face to face after the bomb detonated packed an emotional punch. That's the kind of punch Roy needs to focus on going forward. Having another younger personality in the Arrow Cave is going to bring a different energy that was apparent upon Roy's first trip under Verdant. 
Roy: Does this group have a name, like "Team Arrow" or something?
Oliver: We don't call ourselves that.
Felicity: I do. Occasionally.
Oliver: Stop.
Diggle: Welcome aboard.
How long will the team remain at four? Is bigger better when you're trying to save the world, or is it better to keep it under wraps? I guess Sara is a member of the team, so there are four with a backup. Slade knows who Arrow is.
Does anybody else know that they're unaware of at this point? I guess there's a reason it's called the DC Universe -- you need a lot of people to make up a universe, and it grows all the time.
If you want to relive this or any episode, you can watch Arrow online any time here at TV Fanatic. It looks like things are going to heat up next week. Until then:
Do you think the worst of Roy's Mirakuru problems are under control?
Carissa Pavlica is the managing editor and a staff writer and critic for TV Fanatic. She's a member of the Critic's Choice Association, enjoys mentoring writers, cats, and passionately discussing the nuances of television and film. Follow her on Twitter and email her here at TV Fanatic.