Elementary Review: A Man's Perseverance
Kate Brooks at . Updated at .
After two seasons, I was wondering when Elementary would tackle a mob-themed story line. Just as I had suspected, the writers were able to make a classic New York City theme and turn into a great hour of television.
On Elementary Season 2 Episode 13, Sherlock and Watson delved into old mob rivalries when a son of former mobster was brutally murdered.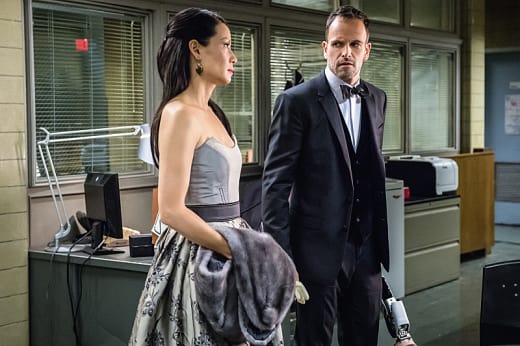 After four episodes of tension between Marcus and Sherlock, their problems came to head and were finally put out in the open.
While I was enjoying the investigation, I decided to make a list of observations as the episode went on. To wit:
No shock here but it must be said: Jonny Lee Miller looks rather dashing in a tuxedo. I feel like this episode should have started 30 minutes earlier so we could have seen their classy attire in action.
Who needs a gun when you can have pepper spray, right, Detective Bell?
Joan can recognize a dead body with no head or hands. That is what you call pure talent.
Watson has an obsession with mob culture. Weird but interesting.
Sherlock isn't a deranged lunatic, but keep pushing him.
Our main characters looked miserably cold in the outdoor scenes. Can you imagine being in 9 degree weather doing take, after take, after take. It's no wonder why their faces looked stiff.
Fangirl moment: what a cute gray fedora Watson was wearing in this episode! Her wardrobe is the best.
Cue Sherlock wink.
Marcus Bell proved why he IS a detective with the help of his friend, Sherlock. Bromance!
The fourth most powerful cop in all of New York was a mob plant. Bet you didn't see that coming, did you?
Sketch boat ride with a gun silencer. So mob.
Every once and awhile a show tries to encapsulate mobsters and the brutality of the mob, but most fail either because their network won't allow the gore or they try too hard. This episode was an exception.
The gore was minimized by only showing a decapitated body and they didn't try to show mob members in a bar or in a restaurant like you see so often elsewhere.
Instead, they showed them in the "sticks" of New York, barely making it by. Old mobsters whose time was years ago, they weren't shown wearing the corny track suits or the obscene amount of jewelry. It was minimal.
In this case, less was better.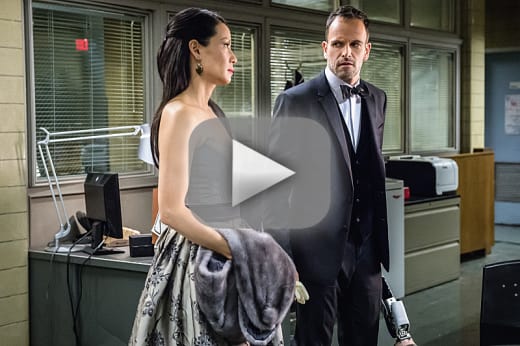 Elsewhere, the best scene of the night goes to Bell and Holmes, hashing it out after weeks of building up to it. I cannot decide which part I liked most: Sherlock calling Marcus his friend or revealing to him that he used to be an addict. All in which Sherlock tried to convince him that he was more than a paper pusher, that he's exceptional like Joan.
Sherlock believes in Marcus and believes that he is meant to be a detective, as is Holmes and Watson. It may come easy for Sherlock but it comes just as for Bell too.
From Moriarty's emotional return in Elementary Season 2 Episode 12 to Bell's perseverance this week, I cannot handle this show and how it is constantly on point, it is a complete joy to witness.
With all of the other programs that I watch, there is only one that is as fulfilling to me as Elementary and that is Arrow. Two dramas that bring everything they've got to give, every single episode. What more could want out of a series?!?
What did you think of the this Elementary episode?