I don't think that I will ever tire of the way that this show plays so delicately with Sherlock and his emotions.
As boisterous as he is as a man, he never seems to be able to do much more than lightly touch on an emotion before it affects him and Elementary Season 2 Episode 14 was a great example of that.
It took a lot for Sherlock to agree to take on a fellow addict and act as Randy's sponsor and one has to wonder if he thought it would always be as simple as taking the other man to meetings every once in a while.
Sherlock truly seemed surprised and dismayed at the fact that there were more "distasteful" (as he put it) parts of the job.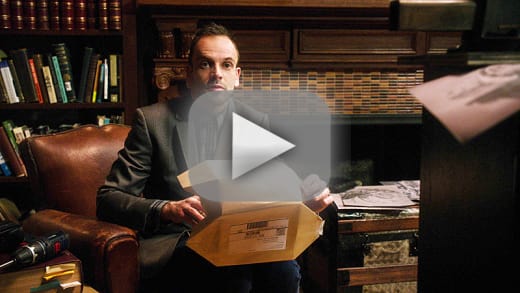 But one thing I admire about Sherlock is that he doesn't really shirk a task once it is given to him. Though that more often than not applies to something physically vile (such as tasting evidence at a crime scene), this time he chose to jump in with both feet and do what he could to help Randy.
Even though that meant dealing with (gasp!) emotions. A fate worse than death for him, indeed.
Gay: I'm Gay.
Sherlock: I'm not.
Gay: It's my name.
It was a joy to watch the way Joan worked in this episode as well. Not just on the case, though she was as brilliant there as she always is, but also with Sherlock. She's not officially Sherlock's caretaker any longer, but I sensed that she was using what she knew to guide Sherlock in the right direction to help Randy.
In a way, she was actually helping two people at once, which makes her even more amazing.
The good investigator never rules out the possibility that his quarry is a fool.

Sherlock
Sherlock's attempts to keep Randy on the path of sobriety varied as he tried to figure out which one would work best for his charge.
First he attempted to be nice and gave the man a lot of compassion, which was almost surprising to see. But after a (sort of) talk with Joan, he switched things up and put his foot down in attempt at more tough love.
Sherlock: Has anyone claimed responsibility for the Nanotyrannus yet?
Gregson: No, why?
Joan: He wants to take it home.
The sad thing is, I think Sherlock might ultimately blame himself for Randy's relapse, but I hope that Joan will help him to see that it wasn't his fault. Sherlock really did do everything in his power to help, but perhaps Randy wasn't ready to accept that help until he saw one more time just how dangerous it was to be connected to his ex.
Sherlock: Has anyone claimed responsibility for the Nanotyrannus yet?
Gregson: No, why?
Joan: He wants to take it home.
In the end, I felt like Sherlock did the right thing by not getting angry or upset with Randy, but just offered to take him to a meeting. It's behavior like that which builds trust and I think Randy will be more likely to listen to Sherlock next time. I also thought Joan did the right thing by giving Sherlock as much rein as possible to figure out the kind of sponsor that he wanted to be.
My favorite bits:
Sherlock, the drill and the skull. I was kind of sad he never once got to drill into it. 
Sherlock meeting up with the mysterious "C." Who else kind of wanted to see some of their naughty letters?
Joan pulling the paper out of Sherlock's mouth before he could eat it. 
Sherlock leaving the book, the map and the ticket on Joan's pillow. 
Sherlock giving a good home to the dust of the baby dinosaur bones. Aw.
Did Sherlock do right by Randy?