We've hit the approximate midway point of Grey's Anatomy Season 10.
With the series on hiatus until February 27, now is the ideal time to breakdown what has worked so far... what has failed... and what we hope to see when the beloved ABC drama returns.
Read on for our Grey's Anatomy Season 10 Report Card and jump in with your take below...
-------------------------------------------
Best Episode: On Grey's Anatomy Season 10 Episode 6, McDreamy's brain-mapping project was the main storyline that illustrated how every connection matters. It was stellar, and I'm really excited to find out more about Derek's upcoming involvement with the POTUS.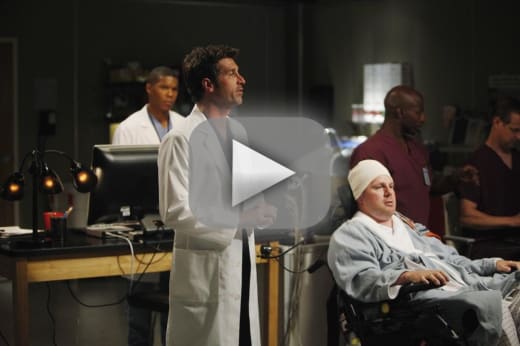 Best Character: While I'm surprised to say this, I have to go with April. I have never been her biggest fan, but she has really grown on me throughout this season. Thanks to her pairing with Matthew, I find her much more tolerable. She seems stronger and more confident than ever.
Worst Character: After what happened with Heather, Shane wins by a landslide. Call me unforgiving, but I just don't see redemption in his cards.
Best Relationship: Jolex! I absolutely love these two and have been rooting for them since day one. After all this time, Alex totally deserves someone who can make him happy. Jo has had an equally rough life and also needs Alex.
Relationship in Most Trouble: Nearly every relationship has hit a few bumps along the road this. From Calzona to Benley, there was much trouble in paradise. Let's not even get started about Stackson, Japril and Mapril. However, Merstina takes the cake as the relationship that was mostly damaged.
There was yelling, criticizing, silent treatments, 3D printer drama and even using the interns to do their bidding. It got really annoying at times! Honestly, I'm not even sure whether their fight is over or not. Can the two just be besties again?
Hopes for 2014: Grey's Anatomy Season 10 has been good but not great. With so many series regulars, it seems like the writers are doing their best by trying to never bore us in 2013. The main issue is there's so much going on lately that most of the episodes just seem so busy.
Moving on, I hope for more focus and development on core relationships, medical cases, and especially a fair and compelling sendoff for the remarkably unforgettable Dr. Cristina Yang. And oh yeah, I may be in the minority here, but I actually don't want April to run off with Jackson.
Overall Grade: B.
YOUR turn, TV Fanatics! Watch Grey's Anatomy online and then grade the season so far below: