In summing up this week's The Big Bang Theory, one key thought comes to mind: what a relief!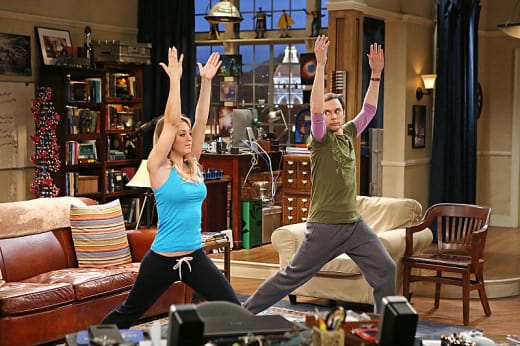 The Big Bang Theory Season 7 Episode 13 began on the morning after the end of The Big Bang Theory Season 7 Episode 12, as Leonard was certain Penny would want to break up with him after he hesitated at her marriage proposal. To his relief (and ours) she was now fully sober and realized that what she did was a little nuts.
Then, to Leonard's chagrin, she told him she had quit her job at the Cheesecake Factory so that she could devote all of her time to acting. Much of the episode was spent with Leonard showing his nervousness at her decision while trying to assure her he supported her.
How many times can you say "I support you" before it starts sound like a broken record? I guess that's what Penny saw, especially when he revealed his relief at what he thought was her getting her Cheesecake Factory job back.
Like any good argument, they had to get down to the specifics before it was resolved - which Leonard did, with Sheldon's unhelpful helpfulness. 
Someday those two are going to get married. They'll get their picket fence on a corner lot and a house with a spare bedroom where Sheldon will live. You can't leave those Nobel prize winners hanging around just anywhere.
Raj's understated humor was beautiful. The last time I recall seeing him being this funny was in The Big Bang Theory Season 4 Episode 23 when the guys were playing a game, and he came up with a hilarious quip to go with every card. 
Among the many great The Big Bang Theory quotes for this episode was this one, which got me laughing out loud.

Amy: I'm just going to go find him and be brutally honest.
Raj: He'll be so upset. He'll probably climb up the Empire State Building and start swatting at planes.
Sheldon's observation about great yogis got my head spinning, just a little bit. In all of the reading about eastern mysticism, I don't recall ever seeing anything which remotely suggested his visual. Clearly, he saw the yogic process of drawing in water in much the way elephants do. Sort of. His advice to Penny when deciding to get a milkshake - that she would need a straw - confirmed this. 
Where do the writers come up with this? That's just horrifyingly hilarious.
Speaking of Sheldon... his immediate understanding of Penny's dilemma was pretty cool and surprising. He gets what it means to be entirely devoted to one's goals, without a safety net to fall back on. I was glad he was there for her, she needed that honest support.
I'm not sure "support" was the word for Bernadette when it came to Stuart, however. More like "lip service" maybe, as she was a woman on a mission. Like Sheldon and Penny, she had a singular goal - although hers was short term only. Her empathetic support of Stuart would only go so far, ultimately. 
You had to smile at the hint of a grin on her face when Jesse told her they only had chocolate chip and she shouted well that sounds even better!
The additional players for this episode were perfect for their roles too. Jesse the jerk comic book shop owner, and Bert the lonesome monster rounded things out well. Amy legitimately knows she's got game now that she's had to fend off a crush.  That's got to be a good thing. I was a little surprised that the writers didn't have her tell Sheldon about all of this.  
What did you think of this episode? Did you suspect Leonard and Penny would break up? Were you surprised, relieved or disappointed when they didn't?
Penny and Leonard have had their ups and downs, yet have managed to work things out every time. Eventually. What do you think should happen with them now?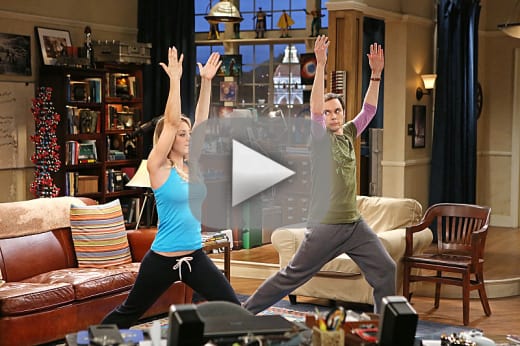 Douglas Wolfe was a staff writer for TV Fanatic. He retired in 2016. Follow him on Twitter
.