With only one episode left before the finale, you would have thought White Collar Season 5 Episode 12 would have asked fewer questions and answered more.
White Collar appears determined to drop all its plot bombs at once, so we'll have to wait till next week to find out likely a fraction of the revelations that will bring this season even semi-full circle.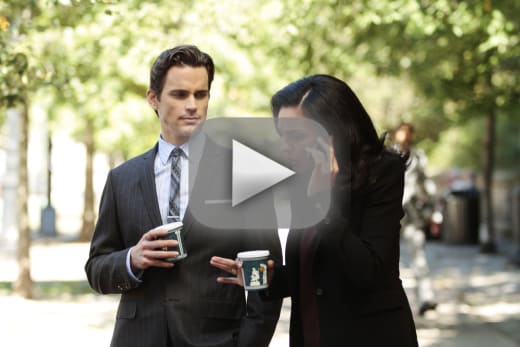 Lucky for us, this installment brought back the incomparable Marsha Thomason, whose absence has been felt. The best part was her character, Diana, brought her little bundle of joy, Theo, with her!
She was right in the thick of the action, impersonating the recently incarcerated Rebecca, who caused some problems of her own!
Each week Rebecca appears to become more and more deranged. I thought it was that she was young and in love, then it graduated to obsessed and then in this episode it immediately escalated to a potential psycho killer situation.
Now she's escaped - and is poised to take Mozzie hostage now. What better way to get your lover's attention than to hijack his bestie? Then again, it seems like Neal might actually be the one under the gun!
That's what is so perplexing about White Collar Season 5. There is so much going on, it's hard to know where to look. It's like they left all these loose ends simply to tie up less than half of them - or so I predict - during the season finale. All the episodes leading up to this point are simply a means to that end.
I don't feel like the characters have grown at all this season, only leaving us wondering whether or not they were going to grow at all. Now that Peter and El have packed their house up completely, it doesn't leave much hope that they will be deciding to stay, which certainly leaves a lot of things to bring together next week.
Will they even remember that Peter is trying to leave amidst all the rest of the drama?
And what about Neal? He thinks he's ready to go straight, but in the preview for next week he's wondering if a helicopter can take him away.
What do you think, Collars? Is Neal capable of walking the straight and narrow if he's allowed to go free?
C. Charles is a TV Fanatic Staff Writer. Follow her on Twitter.