2 Broke Girls Review: Feeling Like A Million Bucks
Jim Garner at . Updated at .
I've been saying for weeks that Deke and Max were made for each other.
However, after learning on 2 Broke Girls Season 3 Episode 15 that Deke was rich, I wasn't sure if Max was going to be able to see past his money and into the guy she fell for.
I should have known that Deke would not go down without a fight - and what better what to prove his point that money doesn't define him than to give Max some so she could see she's the same person?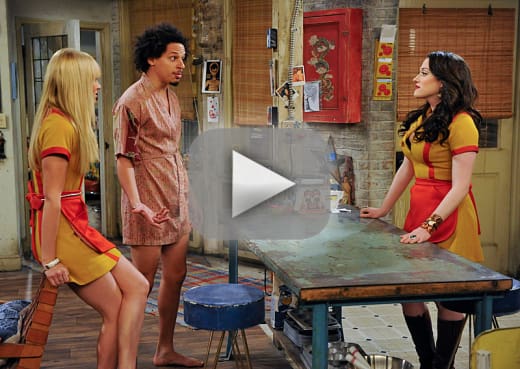 Can anyone really blame Max for having trouble believing that she and Deke could be together? Thankfully for us, 2 Broke Girls Season 3 Episode 16 showed her that witches and smurfs can be together, while being hilarious in the process.
I forget how physical Beth Behrs can be. Between her dive through a dumpster window and struggle to pry off her waitress uniform, I was reminded how well she steps up when the story calls for it. 
Did anyone else giggle at the futility of Max spending spree at CVS to prove a point to Deke? Even with the lowest interest rate available, the million dollars would make more in interest in one day than she spent (assuming her bank account actually pays interest).  
Max, if you want go on a spending spree, ask Caroline; she can tell you where to buy gifts that will put a dent in that million bucks.
The crowning moment of hilarity goes to Deke as he walked into the diner wearing clown shoes, dressed as Uncle Pennybags. Only way that could have been funnier was if he had pulled an over-sized shoe, dog or hat player piece from Monopoly from his pockets. 
In conclusion, it was another great episode. I really hope they consider making Deke a fully time cast member. The addition of Sophie (Jennifer Coolidge) helped the show, Deke could have the same effect. I'm giving the episode 4.8 smurfy-witches in honor of Deke and Max. 
Would you have given back the million dollars?
Jim G. is a TV Fanatic Staff Writer. Follow him on Twitter.