They were throwing curve balls at us on Arrow Season 2 Episode 13 - but we were rewarded handsomely for playing duck and cover.
Once again, I'm amazed at how deftly they're able to keep so many balls in the air without dropping them. The stories flowed so well and no questions were left untouched at the end of the hour. That doesn't mean they were all answered, but nothing was forgotten.
It wasn't a surprise to me that Sara and Nyssa had a relationship. There were some references made in prior episodes that made me wonder if she wasn't romantically involved with someone, and when I learned Ra's al Ghul's daughter was coming to town, I made an educated guess.
It makes sense that Sara would find love in the situation she was in, and it's also easy to understand why someone in her position might choose a woman over a man given the circumstances.
Nyssa is a beautiful woman on the outside, and she seems genuine on the inside, as well. I don't, however, think her father will be as willing to let Sara go as she was. He might be more interested in Sara's death to make them both pay for the error of their ways.
Laurel was poisoned in Arrow Season 2 Episode 12 which is why she couldn't find her way to the couch. Kudos to TV Fanatic reader BAdams44 who spotted the poisoning, but incorrectly suspected Laurel's death as a result. We're all batting zero in guessing where her arc is going.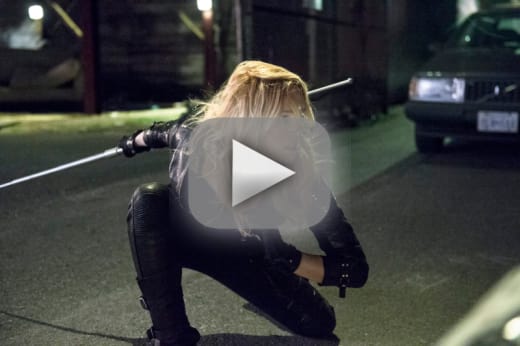 Sara was willing to give up her life by taking the same poison to get out of the League of Assassins and dammit, for a second there I thought we had lost her. I really imagined they were going for it with Laurel as Canary. It would have made sense IF Laurel hadn't had a chance to see her before she died. She could have been willing to avenge her sister's death in that instance.
Interestingly, Laurel was very excited when she thought she saw Sara while hallucinating, but was of a much different mindset when she learned she was really alive. Dreams and reality don't always have the same shine, especially after reality just had your mother kidnapped, you poisoned, caused your parents' divorce and didn't call for years. It's easier to think kindly of the dead.
Sara isn't dead, however. She's very much alive and Laurel is very pissed off. The things Laurel said to Sara made sense to me. She didn't need to ask questions because the answers would all be the same -- because it's Sara. The laundry list of things that went wrong was probably just the tip of the iceberg. Imagine how happy Laurel would be to know that she sent Sara back into the shirtless arms of Oliver Queen. Yikes.
All of that Sara stuff and it wasn't even the only big story of the evening. It turns out all of our Arrow Round Table chatter about the Moira/Sebastian Blood mayoral race was wrong because of the wild card -- Felicity Smoak. She said just a few words about her family, but I really need to know who she is. That girl has balls. Taking on Moira Queen like that? Damn girl.
I was proud of Felicity for giving Moira a chance to tell Oliver what she knew she couldn't keep from him. She should have just said it -- 'talk down to me all you want, Moira, but unlike you, I cannot lie to your son. So either you tell him the truth or I will. Period.' But where's the drama in that?
Oliver said he will be Moira's son in public, but will he go all out for her as a candidate as he would have if he still respected her? Maybe some of the sting will be taken out of the race, although Slade didn't look happy. He's going after Moira in some way. The question is whether or not Oliver really cares anymore. Another question is how long until Thea finds out the truth. 
With both Sara and Laurel home, where is Laurel's story? I know you don't care and you just want her to die, but I see absolutely no fun in that at all. It's also too predictable. Arrow is not predictable. Slade is still out to hurt Oliver, so there's still the possibility of Laurel going dark. She is certainly angry enough to turn her back on her entire family and all of her friend. Friends isn't plural because I think Oliver is the only one she has left. 
Sara could be sticking around so we get close to her and really fall in love before they kill her. While that might seem predictable because Laurel is comically destined to become Canary, it's not because viewers love Caity Lotz and to rip her away from the audience will anger many. It's still a possibility.
Sara could be out there running free and get into an accident and become Oracle while Laurel takes over Canary, but Felicity is so perfect for Oracle it doesn't make sense. Is anybody else dreading the thought of seeing more Huntress? With Birds of Prey and Canary comes Huntress. Hmpf. 
For now, Sara's here, makin' love with Oliver which means making enemies of Laurel and Felicity. Hardly a girl band in the making. 
Don't forget, you can if you've missed one moment of any of all the goodness this show has to offer, you can watch Arrow online right here on TV Fanatic.
Are you happy Sara's home?
Carissa Pavlica is the managing editor and a staff writer and critic for TV Fanatic. She's a member of the Critic's Choice Association, enjoys mentoring writers, cats, and passionately discussing the nuances of television and film. Follow her on Twitter and email her here at TV Fanatic.