On the Arrow Season 2 Episode 12 round table we're digging into Roy's induction to Team Arrow, whether he's through with the Mirakuru changes, Moira's mayoral run and what Laurel might make of seeing Sara alive.
Join in the discussion with staff writers Nick McHatton, Carla Day, Hank Otero, Kate Brooks and Carissa Pavlica. Your mission, should you choose to accept it, is to provide your own answers to all of these scintillating questions and get an amazing conversation going.
If you missed the episode, you're in luck! You can click to watch Arrow Season 3 Episode 12 online here and catch all the episodes when you watch arrow online anytime you need a fix. 
----------------------------------------------------------------------
Were you surprised Oliver revealed himself to Roy so soon?
Nick: It's probably not Oliver's first choice, but it's the only option he could use to get the situation under control. Like he explains, Arrow couldn't get through to Roy but Thea could, so he uses that connection to his advantage.
Carla: Absolutely. I expected him to keep the secret as long as possible. Oliver has only revealed his identity when absolutely necessary and it was here too. He's willing to give up his secret to save lives which is core to his being. I'm glad he did though because it opens up so much more. Roy will trust him more which is necessary to prevent a repeat of whatever happened with Slade. They can begin their hero journey together.
Hank: I was surprised the reveal took place before the finale, but I'm glad it did. Like Carla said, Roy will now trust Arrow/Oliver much more. The kid's never really had anyone looking out for him. I loved the look on Roy's face when he realized it was Oliver that saved his life way back in Season 1 Episode 18. Though the Mirakuru is affecting his personality, I think this is a brand new start for Roy. I'm psyched he's part of "Team Arrow."
Kate: No, I think it was the only way to get to Roy. Roy doesn't trust anyone and there was no either way. Will it bite Oliver in the butt, I believe so, yes.
Carissa: I'm really surprised, but I shouldn't be. I should know by not to expect the unexpected, and yet I still find myself thinking of Arrow as I do other shows, when they have clearly set themselves so very far apart (and above).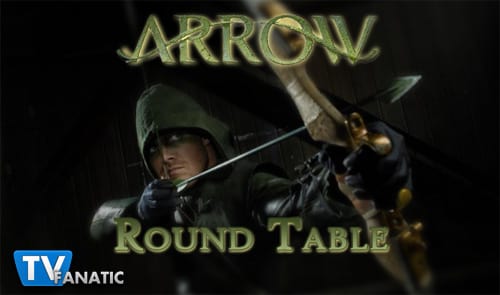 What do you think will happen as a result of Moira running against Blood for Mayor?
Nick: I'm hoping it will begin to cause more people than just Laurel to get some red flags about Blood. Aside from Thea, most of Moira's dirty laundry has already been hung around Starling City, so this might be the catalyst necessary for him to completely slip up with Slade. Additionally, with Moira running Oliver might take his rose-colored glasses he has for Blood off.
Carla: War! A showdown between the Queens and Blood will be coming and it will be awesome. I'm sure that Slade's not going to be thrilled by the development. Moira's life could end up in danger. It also opens up a reason for Thea's paternity to come out. I'm excited for this path. It gives Moira a purpose within Starling City and on the show. Otherwise, she would have been relegated to Oliver and Thea's mother.
Hank: Politics is a without a doubt a filthy game. Blood's going to come after Moira with everything he's got and Oliver will take his mother's side. I'm not sure what the catalyst will be, but Blood is going to find himself on Oliver's bad side for sure. Like I said last week, I'm ready for Blood's story arc to end so Deathstroke can come front and center.
Kate: I want Moira to win! As a result, Thea discovers who her father really is thus driving another wedge between them.
Carissa: It's going to put Oliver into a really awkward position, that's for sure. He's been backing Blood extensively, and to pull his support will be a substantial blow. It will be interesting to see how the city reacts. It will cause Blood to take the gloves off and start fighting nasty, and I can even see him doing things for his own purposes that Slade wouldn't be pleased about. It should be a fun ride!
Thea's purpose was to propel story for both Roy and Moira. What else do you wish for her?
Nick: Right now, they're using her innocence and relationships with her family to drive the rest of the story forward, but once the truth about Malcolm comes to light Thea will probably have a big arc. There's a lot there, she's been raised as a Queen, but she's still half Merlyn. She's forgiven Moira, but Moira hasn't been completely truthful with her. Plus, her attachment to Oliver and Tommy.
Carla: For now, I like the path that Thea's on. Not every character can be at the forefront. She's supportive of Moira and will perhaps help with the campaign. She's got the club to run. And, she has a lot to deal with as Roy's girlfriend and it's only going to get more complicated now that Roy has joined Team Arrow. Plus, the secret that Malcolm's her father will eventually come out.
Hank: I'm just so glad the writers managed to turn the character around. Thea was one of my least favorite characters last season and now she's so cool. I agree with Nick, once Thea finds out Malcolm is her father there's a ton of juicy material to explore. Speaking of Merlyn Sr., it's nice to see the writers have not overused him this season. I think Barrowman is much better in smaller doses.
Kate: I am not sure, Thea has grown a lot since last season and the fact she was telling Laurel to go home was nice role reversal. I don't wish anything more for Thea, I just hope that she stays the same. Her character, at this point and time, is good where she is.
Carissa: I don't need her to be front and center, but always being secondary to another person's story kind of puts her in the Laurel position. It will be interesting to see where they take her character if and when she learns she's a Merlyn.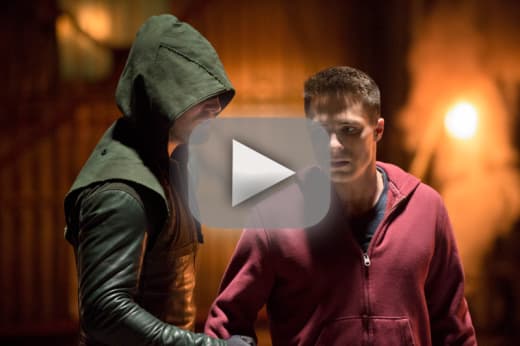 Slade and Oliver are mending fences on the island. Should we assume the Mirakuru has more in store for Slade and perhaps more for Roy by way of personality changes?
Nick: Absolutely, rekindling friendships/connections is probably the first step in Mirakuru Personality Detox. Slade is a survivalist first, and that's going to play against his friendship with Oliver and love for Shado with the Mirakuru coursing through his system. Whatever happens, we know it doesn't end amicably. I see Roy as someone much stronger that Slade, he's a young guy who is also a survivalist, but he's also someone looking for a home and acceptance more so than surviving. Roy's circumstances have changed, and he'll probably be able to handle the Mirakuru much more efficiently because of those circumstances.
Carla: Definitely. Something happens that causes Oliver to put an arrow through Slade's eye. It's probably a confrontation that's heightened as a result of the Mirakuru. Plus, we know that Slade on the island is not the Slade we see today. The Mirakuru has altered him and continued to do so in some manner. And for Roy, he's just at the beginning of his Mirakuru journey. I hope that Oliver has better luck getting Roy to control his impulses than he had with Slade. Another failure would be heart-breaking for Oliver and devastating for Roy.
Hank: Again, Nick and I are thinkin' along the same lines. Slade seemed much less interested in friendships or relationships, even loving Shado from afar. With Roy, we've got someone who has always wanted a family and a purpose. With Oliver letting him in on his secret identity, that's earth- shattering. I'm sure he will struggle a bit due to the Mirakuru, but ultimately Oliver's going to make a difference in Roy's life. At least that's what I'm hoping. Imagine if after all this Carissa is right, and Roy becomes Slade's right hand man... I'd be seriously bummed out LOL
Kate: Yeah, absolutely. Mirakuru scares Oliver and thus scares me. As Oliver revealed, he put an arrow through his eye. There are ultimately some changes that are going to be negative.
Carissa: There is a reason they slowly unveil the scenes on the island to coincide with certain scenes in the present, and I am worried that we don't know what happened between Oliver and Slade because of what the future holds for Roy. If our poll is any indication, more viewers than not are wary that all is going so well with Roy so soon.
Imagine the first scene we will see between Laurel and Sara.
Nick: I imagine Laurel's going to wonder just how much she's been drinking for her to "hallucinate" Sara. Even so, Laurel is still in hardcore denial, and I don't even know if Sara coming back from the dead for her will be enough for Laurel to seek help.
Carla: Laurel will be shocked and probably not believe her eyes. When Oliver made that call, I figured it was Sara that he was calling and I'm glad that he called her. It's time that Laurel learn the truth. It may push her away from everyone, but at least she'll know the truth. After Laurel's initial disbelief, I'm not sure how it will go. She could hug her and welcome her back, but I guess it's more likely she'll feel betrayed and push Sara away.
Hank: I've got to say that Laurel stumbling around and falling on her butt was the funniest thing I've ever seen on Arrow. I must have rewound that scene a dozen times just to see her crash on the floor. I imagine Laurel is going to be pretty upset when she finds out Sara's alive. I mean, she's always the last to find things out. I'm with Nick, I think that last scene sealed Sara's fate. Laurel taking her place as Canary seems inevitable.
Kate: Laurel is going to be like WTF and Sara is going to explain what happened, not the full truth, and Laurel is going to hate Oliver. But I'm glad Sara is returning in present day.
Carissa: I'd imagine a mixture of emotions. Laurel will be torn between happiness that her sister is alive and pain that the secret was kept from her. The more she learns others knew, the more it will hurt and the more she'll want to lash out. But if Sara is honest and tells her what coming back means to her safety, then maybe she'll realize the enormity of her current situation. Eventually.
If you have anything else to say, dig in before things get overwhelming!
Nick: With Sara going to visit Laurel, I'm really scared for Sara's fate now. Does anyone else feel the same way?
Carla: I'm intrigued by Amanda Waller's visit to Bronze Tiger. We have a few different DC universe groups in play now and that's exciting. Arrow has done a good job of expanding the world and pulling in the appropriate players at the right time while focusing on the main players.
I'm looking forward to the big showdowns that are coming both in present day Starling City and back on the island. The stories have been moving along at a quick, but sustainable rate. Each week, it's exciting to see what surprises the writers have for us.
Hank: Though the use of Bronze Tiger has been disappointing so far, I love the possibilities for the Suicide Squad. I'm betting they're saving the Squad for Season 3, at least the real meaty stuff. I'm also very excited about the introduction of Nyssa al Ghul next week. Callin' it now, Nyssa kills Sara.
Kate: Stephen Amell posted on his Facebook that we should expect much more shirtless Oliver. Can I get an amen?! This was underutilized In the first half of season 2.
Carissa: While I like the nods to things like the Suicide Squad, we still haven't heard anything about Diggle's Bing search into H.I.V.E. If his search was fruitful, shouldn't it lead to some connection to assassins and possibly Deathstroke? Let's get an update on his search into the info Deadshot gave him before we start piling on more. His investigation is important!
Carissa Pavlica is the managing editor and a staff writer and critic for TV Fanatic. She's a member of the Critic's Choice Association, enjoys mentoring writers, cats, and passionately discussing the nuances of television and film. Follow her on Twitter and email her here at TV Fanatic.