The Big Bang Theory Review: Boiled Frog Prince

Carla Day at . Updated at .
Manipulation. Lots of manipulation, even from Sheldon, made The Big Bang Theory Season 7 Episode 16 a funny half hour.
Who would have thought getting a dining room table would have been such a disruptive idea? When Sheldon's involved, it should be expected, right?
He doesn't like change. There's no such thing as good or bad change. Anything different is inherently bad where he's concerned.
Sheldon's forced realization that he's changed since he started dating Amy was a positive revelation. Ultimately the table was just a catalyst for that to come to light.
His reaction to break up with her was a natural response from him and lead to the funniest exchange of the episode.
Sheldon: No, I've changed. Like the frog who's put in a pot of water that's heated so gradually he doesn't realize he's boiling to death.
Penny: Or you're the frog who's been kissed by a princess and turned into a prince.
Leonard: Or, you're just a tall, annoying frog.
Amy's plan to manipulate Sheldon into not breaking up with her was brilliant. Whether he caught on or not, I'm not sure. Either way, Sheldon and Amy didn't break up which was a positive. I know many fans don't like them together or don't like Amy, but I find the two of them annoyingly charming.
They humanize each other and both continue to grow because of their relationship. Amy could probably find someone who's a better match for her, but she loves Sheldon and that matters. Plus, she's perfect for him. I love that she tried to trick him into moving in with her. I hope she keeps pushing him.
Amy: You don't need to explain yourself to him.
Sheldon: I don't need to explain myself to you!
Amy: You're sick of his nonsense and ready to move in wth me.
Sheldon: Keep the table! We don't use that space!
Amy: Damn it, I got cocky.
While a dining room table would make it easier to eat, there was a loss of casual community when they sat at the table. Will it be back next week? I doubt it. There's something so Big Bang Theory about their dinner gatherings around the coffee table.
I'm not sure what was going on with the magic wand remote control, but it did provide a few funny moments for Raj. It was weird, but any appropriate use of "muggle" is a win.
And, regarding Howard's offer to go back into space -- PHEW! I don't think I could handle more scenes of him in space. He hated it and was obnoxious at the space station. Once was more than enough. With the help of his friends, family, and Astronaut Massimino, Howard realized his error and manipulated his physical in order to get out of it.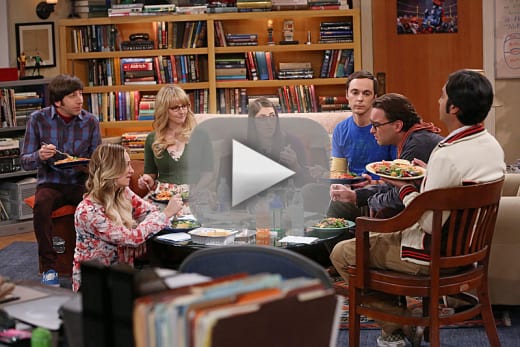 Manipulations were the winner of the episode!
What was your favorite moment?
Carla Day is a staff writer for TV Fanatic. Follow her on Twitter and on Google+.