Despite the fact that there wasn't any Deke in it, I still managed to enjoy 2 Broke Girls Season 3 Episode 18 quite a bit.
I did miss him, of course, but I survived. It wasn't hard to do, thanks to another appearance from Chef Nicolas. 
It was spring cleaning time at the diner, which apparently only happens once every few years. Han trying to get everyone to help him with all of the incredibly scary sounding jobs was hilarious.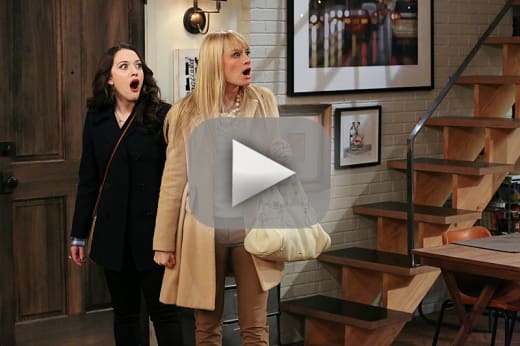 How they ever get any customers in that place is a mystery, but that's part of the fun of this show.
In 2 Broke Girls Season 3 Episode 17, Caroline found out that Nicolas and his wife had an open relationship and she was basically given permission to sleep with him. Caroline refused of course, so when Nicolas came skulking around again, she didn't want anything to do with him. The only trouble was that she didn't tell him that, instead she snidely said that he should leave his wife.
Big mistake.
Once Caroline figured out that she was about to actually ruin a marriage and not just "almost" ruin one, she did what any woman would do. She went to his place with her best friend in tow and told Nicolas that they were through.
I know that Caroline is a good girl and I admire that about her, but I'd be lying if I said there wasn't a tiny part of me that was wondering if she might take him up on his offer. I love that she never wavered though and did everything she could think of to keep from ruining his life. As messed up as her life is, there are times when she is kind of my hero.
At first I was a little puzzled that Nicolas thought his wife would be upset to find Caroline in their apartment. She had just given her permission for them to sleep together, after all. But I guess allowing him to sleep with another woman was very different from finding out that he was leaving for that same woman.
Apparently Mrs. Nicolas was up for sharing her man, but not as interested in giving him up for good. But now that she saw Max and Caroline come crashing through her window, I have to think she'll dump him. Could that mean that this flirtation isn't over yet?
My favorite bits:
Han trying so hard to get anyone to volunteer for his crazy list of chores.
Caroline realizing she'd just called the diner her personal life. Oh, dear.
Earl and Nicolas telling each other they were both very fine-looking men. I'll drink to that!
The poor guy trying to flag down Max as she ignored him.
Sophie's dress. Or was it a coat? Whatever. It was awesome.
Caroline admitting that she was pooping… for five hours.
Nicolas announcing that he was leaving his wife. Say, what??
Han announcing the spider communities were at war. Am I the only one who really wanted to see what that looked like?
Nicolas announcing that he was breaking up with his wife in person. Oops.
Nicolas claiming that Caroline was about to ruin his life. Oh no he didn't!
Max realizing that she didn't want to die because she had Deke. Awww!
The girls in their neck braces. Totally hilarious.
How much did you miss Deke in this episode?