Arrow Review: So Many Lies, At What Price?

Carissa Pavlica at . Updated at .
Once you let the darkness inside, it never comes out.
That's what Helena told Laurel and Laurel later repeated after bribing someone for her job back. The sentiment doesn't bode well for many on Arrow, and it seems to be at the heart of the so-called heroes running around Starling City.
By the end of Arrow Season 2 Episode 17 and after a heartbreaking discussion with Oliver about how many people are keeping secrets and the extent to which they are hurting people, Thea is in the clutches of Slade Wilson.
Things are about to go into overdrive for Oliver in his argument with Slade.
It's interesting that the hour in question was titled "Birds of Prey" and touted as an epic showdown between The Huntress and The Black Canary, but the story wasn't set up to let the two ladies shine in much other than their leather and masks. 
They had great fight scenes and Helena talked about darkness, revealing that at the core of herself, Oliver, Sara, Slade, Roy and now Laurel are people who have let enough darkness into them that they may never be free to have normal lives again. Or as normal as some of them get being masked crusaders.
But the big battle was tinged with sadness for so many people involved it was kind of hard to feel triumph as Canary nearly choked the life out of Helena (she didn't have on her mask, so he was just Helena). Laurel got Canary to stop her death grip just like Canary had earlier talked Laurel away from the bottle. Sadness and pain were prevalent.
It all comes down the lies. There are just too many of them. At one point someone said they were having a hard time remembering who knew whose secret identity.
I can't help thinking that this mask blindness makes for a very hard time at Halloween. How often do parents take home the wrong children after a party in Starling City merely because their kiddo propped up their hood or put on a simple around-the-eyes mask?
Suspension of disbelief is necessary for these shows to work, but good God if Laurel can't recognize her sister's lips and chin (which have to be some of the most easily recognized in the business) then there must be a lot of missing persons and impromptu (and unplanned) kidnappings in Starling.
Why wasn't the time to tell Laurel about Canary's secret when she got her to stop killing Helena?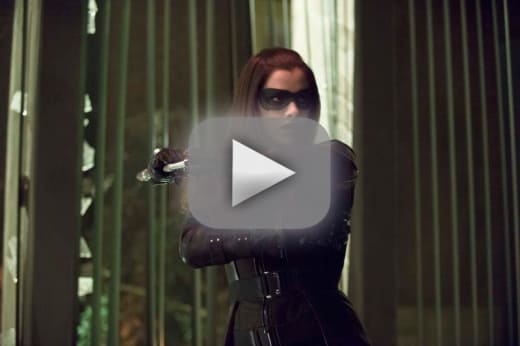 It was the perfect time to reveal the sister Laurel had wanted to impress so badly by appearing strong and returning to work before she was ready was just as fallible as she was. It felt like a missed opportunity. Even if it had driven Laurel farther into that darkness, it would have worked.
Oliver, meanwhile, has lost all perspective. Sara called him on it when she noted he had no problem giving Diggle the green light to off Slade when his family was in danger, but he refused to let Sara look out for Laurel even if it meant killing Helena. Because he created the Huntress.
Sara easily reminded him that he created Slade, too, but didn't care if and when he was killed.
Sara: What do you guys think?
Felicity: Oh I think if the Huntress shows up you should totally kick her ass.
The support from Felicity for Sara was fantastic, and was only topped by Diggle's nodding head as he affirmed Felicity's statement. One of the highlights so far has been the connection between these two ladies. Let's not lose that!
Oliver used to be more perceptive, but it's not a skill he has right now as was evident when he told Roy to stop seeing Thea. The only thing keeping Roy grounded has been his love for Thea. Not hand slapping a bowl of water or Oliver looking over his shoulder. He's been thinking of his love for Thea and that keeps him from going all Mirakuru. 
Now that he's intentionally hurt Thea because Oliver made him second guess his own abilities and she's captured, I suspect we will see a little more Slade mixed in with our Roy. 
Other than the revelation of darkness being afoot and Thea's capture, there wasn't much by way of forward movement in this installment. Laurel is standing her ground and she's sober, but those around her are tumbling backward because lying to everyone and carrying such a heavy burden is literally bringing them down. 
With a world full of death in the Huntress' wake, she should be in prison for a long time. Helena feels no sense of peace after the Frank's death and even envies him possibly standing beside her fiance in the afterlife. Tears of regret don't redeem her character and bring about excitement that she might someday be added to the team, but if Amanda Waller gets her hands on her and she is incorporated into the Suicide Squad, perhaps her penance will be enough.
After the Diggle-centric Arrow Season 2 Episode 16 his absence was palpable. The time with the original team of Oliver, Diggle and Felicity has been steadily decreasing in favor of themed episodes and Lance family drama. Even the original passion that was shown between Oliver and Sara when they fell into each others arms in Arrow Season 2 Episode 13 is no longer evident.
The island flashbacks showed that Sara did what she felt was necessary when it comes to caring about those she loves. If she has to kill, she will. Oliver has been binding the hands of others while planning to kill Slade. Everyone is lying to Thea and Laurel and half of them are lying to Lance.
The more people lie, the darker they become and the darker they become the less likely they are to keep their emotions in check and when those run free all hell is going to break loose. 
I will be surprised if we don't hear some word about Malcolm Merlyn next week for two reasons. First, Thea is his only remaining child and if he learns she's in trouble, he should come running. Second, Moira knows that Malcolm is a badass and if she has no other options to help keep Thea safe, she could turn to the one person she most fears being in Thea's life to keep her alive.
Moira doesn't know about Arrow and Canary and soon-to-be Arsenal. Will she even learn Thea's been kidnapped? How angry will she be if she discovers a connection between Slade and Oliver? Another lie just lying in wait to jump up and bite someone on the ass.
Don't get me wrong; Arrow continues to be one of the best shows on television. It can sit happily on a successful plateau and enjoy its story with solid writing and attention to characters we have grown to love. Not every hour has to feel like a finale.
You can catch "Birds of Prey" and all of the other episodes when you watch Arrow online. Then hit the comments and chat about the hour. What worked, what didn't and what do you hope comes next?
Would you watch a Huntress spin-off?
Here is your first look at Arrow Season 2 Episode 18:
Carissa Pavlica is the managing editor and a staff writer and critic for TV Fanatic. She's a member of the Critic's Choice Association, enjoys mentoring writers, cats, and passionately discussing the nuances of television and film. Follow her on Twitter and email her here at TV Fanatic.