The very best aspect of Arrow Season 2 Episode 16 was John Diggle. He was also the worst.
Before you punch through your computer screen, let me explain...
The more time David Ramsey spends on screen as John Diggle, the less I like it when he's not there. There isn't another character on Arrow with as much emotional strength, compassion and conviction as Diggle, making his presence undeniably enjoyable.
Knowing that the next installment won't feature Diggle with as much prominence made me yearn for the next Diggle-centric episode before this one was half over. Am I alone here??
Because it was Diggle's episode, by default Floyd "Deadshot" Lawton was the preeminent member of designated Task Force X.
Gimme a break. This ain't no task force. Let's call it like it is. Welcome to the suicide squad.

Deadshot
Diggle's struggle coming to terms with the members of the Suicide Squad being the very criminals he and Oliver had put behind bars wasn't nearly as interesting as his conversations and interactions with Deadshot. 
Lyla kept telling Diggle it was a complicated world, but he didn't want to think about it like that. It's easier to think in terms of black and white, right and wrong. Until he was thrust into a situation where he got to know the man who killed his brother. A man who had a daughter for whom he was living and putting first above all others. 
It opened Diggle's eyes enough to care about getting Deadshot out of the line of the drone strike after Amanda Waller planned to take out an entire mansion full of people with Deadshot as the target, thanks to an implanted explosive device/GPS in his head. 
Deadshot wasn't going to move -- it's a suicide squad, he tells Diggle. What did you think was going to happen? He had his orders and wasn't leaving his post. Not until Diggle reminded him of his daughter, Zoe. 
Waller, on the other hand, is a cold-hearted bitch. She has little in the way of benevolence toward the men (and woman) she has chosen for her squad. She didn't hesitate to blow up Shrapnel (he picked his name well) when he made a run for it. When Lyla took out Deadshot's implant, Waller decided they would now go in their spines to ensure they'd stay in place. She's ice.
It's difficult to root for Waller and easy to care about hard criminals. Who expected that? Diggle certainly didn't.
Last night the man who killed my brother showed more character than the woman charged with protecting the world. Good and bad is not so clear to me. One thing I do know for sure, black and white, is that I can't ever lose you again.

Diggle
Felicity had very little to do in the hour, but her interaction with Diggle when he was watching over her in anticipation of a Slade attack gave me hope for the weeks to come. We'll need more of that to keep me satisfied. Lyla will be busy with A.R.G.U.S., so great friends Felicity and Diggle can keep each other company and us entertained.
As Diggle was busy stealing the show, Oliver was attempting to push away Sara because, like many of us, he believes that Slade will be going after Sara either just to hurt her or as a way to get to him. I still believe that. 
Laurel and Sara are not only on speaking terms, but friends and sisters again. So much so that Laurel was giving advice to both Sara and Oliver on how to remain close despite obstacles they encountered in their relationship. That's difficult to believe, isn't it?
Oliver thought so, but Laurel told him giving advice about two people she cares about was the easiest thing in the world.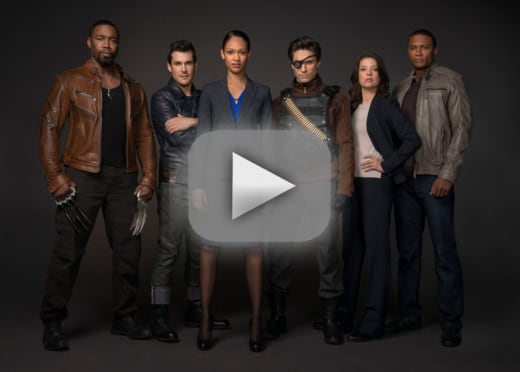 It's difficult not to read foreboding into all of this, but I'm beyond trying to predict what will happen. Whether Slade will lash out at Sara, Felicity, Thea, Moira, Laurel or all five of them -- I have no idea. I only know they are his targets. If Slade were an equal opportunity kind of guy, he'd toss in Diggle and Roy. Oliver loves other people out there, too.
It seems we'll see more of the Suicide Squad as Oliver went to Waller for help in tracking Slade. They had someone in their sites alright, and they were calling him Deathstroke. We're just warming up.
This installment proved, again, how incredible Diggle is as a character and how much he can bring to the Arrow world. Let's hope we'll see more of him as time goes on. If you want to see more, you can watch Arrow online for the latest.
Hit the comments and talk about the Suicide Squad. Did anything surprise you? Are you happy Lyla and "Johnny" are in it for the long haul? Keep an eye out for the Arrow round table later in the week!
Did the Suicide Squad meet your expectations?
Here is your first look at Arrow Season 2 Episode 17, "Birds of Prey."
Carissa Pavlica is the managing editor and a staff writer and critic for TV Fanatic. She's a member of the Critic's Choice Association, enjoys mentoring writers, cats, and passionately discussing the nuances of television and film. Follow her on Twitter and email her here at TV Fanatic.