Grey's Anatomy Review: A Birthday Surprise

Christina Tran at . Updated at .
My birthday's fast-approaching and I've actually started my wish list already.
One thing that certainly won't make the cut is a man absorbed by his own twin. Yes, you read that right.
As the doctors at SGMW hospital wished Webber a happy birthday on Grey's Anatomy Season 10 Episode 16, they gave him what's known as a fetus in fetu, a developmental abnormality in which a mass of tissue resembling a fetus forms inside the body. Honestly, I couldn't think of a better gift for Webber. 
Much to Webber's dismay, the staff threw a surprise party for him. I loved that everyone was there to wish him well; it was just very touching after all this time. Ross' toast was sweet, and Owen's good news about a new promising role as the director of the residency program was simply icing on the (birthday) cake.
Mama Avery was back to celebrate and also to wreak a bit of havoc upon the newlyweds.
Japril struggled with Catherine totally questioning April's character and suggesting that she needed to sign a prenuptial. While I found April a tad annoying at times, I liked that she stood up to her mother-in-law and even apologized for how their marriage went down. 
Undoubtedly, Japril's rush into a marriage will be nothing short of issues as April's basically married into The Avery Foundation. As hinted in the final minutes, Japril has much to discuss as they both have extremely differing opinions in how they will raise their children.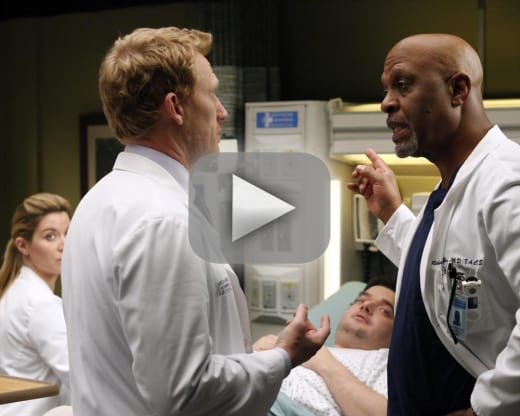 Meanwhile, Jo wasn't too sure about signing off on a declaration of relationship. It's a good thing that Alex talked her into it because I just can't get enough of these two. They are definitely my favorite couple right now. 
As for Crowen, they shared some very special moments. Cristina's what-if installment is next week and I'm wondering if she'll ultimately end up with Owen. What are your thoughts?
Elsewhere, talk about tension!
Callie and Derek argued about the sensors again. While both doctors brought up fair points, push came to shove and Derek said he'd walk if the sensors couldn't be shared. Luckily, all worked out in the end and Derek will continue his research with the POTUS and he and Callie can continue their research. 
Other Thoughts:
Which medical case did you enjoy more: Ross' storyline with the young expectant mother or the absorbed twin case? I thought they were both very interesting and feel like the writers are really pushing for Ross' road to redemption.
I know this installment had a lot going on already, but I'm so ready to see Meredith rock her research. She's got Stephanie and the research assistant now. Let's go!
It seems like the second half of Grey's Anatomy Season 10 is all about familiar faces. First, we heard of Isaiah Washington's return. Now, it's been reported that Caterina Scorsone will reprise her role as the unforgettable Dr. Amelia Shepherd later this season.
I absolutely love the '80s cover songs lately. Seriously, it's kind of amazing how perfect the song choices have been. 
Be sure to return next week to chime in on our Grey's Anatomy Round Table.
Overall, "We Gotta Get Outta This Place" was strong and had a perfect mix of just about everything we love about Grey's. See you next week, TV Fanatics. 
But first: get a look at Grey's Anatomy Season 10 Episode 17:
Whose return are you more excited for?