Grey's Anatomy Review: All About Cristina

Christina Tran at . Updated at .
It's hard to imagine Grey's Anatomy without the one and only Cristina Yang. Soon enough, though, we'll have to do just that.
Let's forget about that momentarily, however, and dive right in and discuss tonight's Cristina-centric installment.
On Grey's Anatomy Season 10 Episode 17, Cristina saved the life of a man who ultimately chose to die. Repeatedly, she asked the patient and even herself: Do you know who you are? Do you know what's happened to you? Do you want to live this way?
These are simple but also interesting questions that honestly made me stop to wonder about my own life. I love when Shonda and company can do that. I know for days to come I, too, will be addressing the same concerns and pondering my own choices in life.
Cristina had a decision to make about the path she wanted to take moving forward and whether it should be with or without Owen.
In the first scenario, when she questions the patient, he chose to die. We saw Crowen move in together, adopt a dog and even become parents. Seriously, how strange was it seeing Cristina pregnant? Twice, for that matter?! In the end, she was seen presenting a Harper Avery Award to Ross. Crazy!
In the second scenario, the patient chose to live. The main difference this time was that Cristina knew she and Owen could not be together. Their differences were just too big and they were always fighting about the same things, so she asked Meredith to help her stay away from Owen.
While he developed a drinking problem, we saw Cristina accept her fourth Harper Avery Award in a row.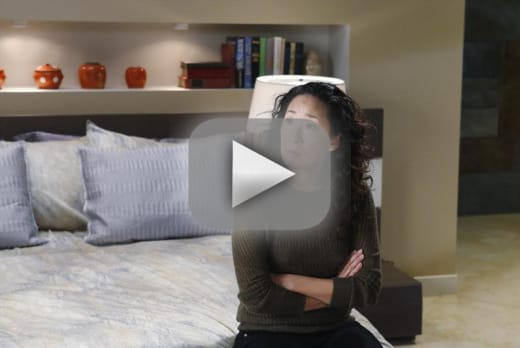 Finally, in Cristina's last sliding door experience, we saw her simply just watch Owen walk alone into an elevator. I can't say that I'm entirely sure what her final decision was but I hope she figures it out ASAP. Her days are limited and I want to see her being her rock star self in the OR. 
By the way, I kind of loved that we got to see so much of Meredith even if this was all about Cristina. Life with your best friend by your side just make things a bit more bearable. 
Other Thoughts:
Cristina named her male dog Mrs. Rodriguez. Hilarious!
I seriously liked all of the details, such as the doctors' scrubs, their fancy bracelets, Meredith's futuristic phone, the docs' aging and much more details that were shown to illustrate passing time.
Next season, we will certainly be missing Cristina. Will you also be missing Ross and Leah?
Be sure to return next week to chime in on the Grey's Anatomy Round Table. 
Overall, "Do You Know?" was very different and showed Cristina at her best and worst. Of course, Sandra Oh rocked every scene and I was reminded constantly that things just aren't going to be the same without her. 
So, should Crowen end up together?
Here is your first look at Grey's Anatomy Season 10 Episode 18: