Everyone gets transported back to the Enchanted Forest only to find that it's not exactly how they left it. There's a new villain in the fairy tale world as the Wicked Witch has taken over The Evil Queen's castle. 
But there's more than one twist in Once Upon a Time Season 3 Episode 12 as Emma and Henry live a contented lifein New York City, until Hook shows up. 
Emma considers accepting her boyfriend Walsh's proposal of marriage until she drinks Hook's potion and remembers her past. He tells her that her family and friends are in danger and need her help so Emma breaks things off with Walsh. Only to find out he's actually an evil flying monkey sent from the witch to keep an eye on her.
So much for happy endings.
Hook and Emma head back to Storybrooke to find that Snow, Charming and all of the fairy tale characters have been transported back. They have no memory of the last year but they know time has gone by as Snow is very pregnant. 
Whether you missed a minute or want to see it again, you can watch Once Upon a Time online here at TV Fanatic.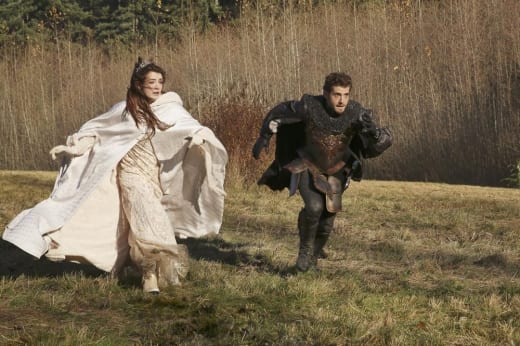 C. Orlando is a TV Fanatic Staff Writer. Follow her on Twitter.