Hello and goodbye, Mark Cyr. It was nice to see you again.
Mark showed up on Parenthood Season 5 Episode 19 when he bumped into Amber. And, as soon as he phoned Sarah - cryptically asking her to dinner to discuss something unknown - it was obvious he was sailing away.
That leaves us with another dangling man in Sarah's life and another ominous commercial begging the question of whether Hank can win back the woman that got away. God, I hope not.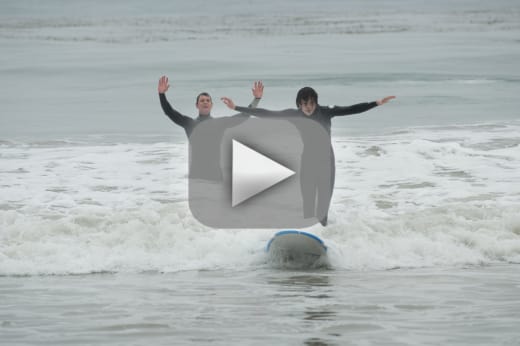 Sarah's codependency has taken on new dimensions as she's added Hank to her budding photography career. I'm fairly certain I speak for everyone when I say we're ready to see what Sarah can accomplish on her own. She was doing fine for about one week this season as a super in her own apartment. Let's fly with that instead of taking her down a road well traveled.
Bless Ray Romano for doing the best he can with the character, but Hank isn't right for Sarah. Cutting him loose before the next season would be best for all involved.
Zeek had a last hurrah with Crosby as they set out to get the final piece needed to complete the 65 GTO. Finishing that car with his grandchildren will allow him to move on to the next stage in his life without fear. The scenes between father and son hit the perfect note, giving Zeek the strength to tell his Millie it's time to accept the offer on the house. 
It will be a really different show if we're taken into Parenthood Season 6, but it finally seems like people are making the decisions to move on in a positive direction and that's alright.
Julia getting the fraud alert for her credit card gave her the prod she needed to flat out ask Joel whether they were going to work on their marriage. She already knew the answer that he was too timid to tell her. That he felt it necessary to dredge up all of the business about disrespecting him again was painful as a viewer. They've just decimated Joel so that he's barely recognizable. 
Joel's all over the map with the disrespect, the texting, his violation for being a stay at home father, being the one to move out of the house; so many things and none of them mean anything because he had no intention of working on a marriage he didn't think was working before any of that became an issue.
And that's fine. Really, it's fine. I'd have more respect for his character if they would give him some backbone. Make a stand. I'm starting to feel sorry for Sam Jaeger for getting his scripts every week and thinking, "this again?" He has to wonder where Joel has gone, too.
I wish he would stop bringing up the same stuff over and over and just commit to the marriage being done. 
It seems that won't matter any longer because once she's given the green light, it looks like Julia plans on getting busy next week. By the way, I don't think she has had an affair with Ed, and I don't think she wants to. She was enjoying him as a friend when she needed one and his kiss really did take her by surprise. That doesn't mean they should throw their friendship out the window.
At least Amber had a great idea to get Sydney and Victor on the same page by sharing with them what she and Drew went through as kids and getting them to lean on each other instead of infighting. After all, no matter who's house they're going to the one constant will be each other. Seeing them smile and have a good time was a relief.
I guess Max is going to be home schooled in the traditional subjects and surfing until their new school opens. Kristina's scene in the conference room was fun to watch even though the topic was brutal. I don't think they're doing Max any favors right now, but he's their son so they can do what they want. If he's still living with them at 30, it won't be odd; his aunt Sarah lived with her parents long after that.
I'm looking forward to some shakeups. Julia and a new man, Zeek and Camille in a condo, Kristina and Adam as headmasters and if there is a higher power, Sarah on her own. There is absolutely nothing wrong with wanting to wave the white flag to cut the awkward moments short and move on.
If you want to relive your favorite Braverman moments you can do that when you watch Parenthood online.
Should Sarah cut the cord with Hank?
Carissa Pavlica is the managing editor and a staff writer and critic for TV Fanatic. She's a member of the Critic's Choice Association, enjoys mentoring writers, conversing with cats, and passionately discussing the nuances of television and film with anyone who will listen. Follow her on Twitter and email her here at TV Fanatic.