The dead returning to life is a big story generator these days -- and Resurrection Season 1 Episode 1 jumps right into the middle of the fray.
Will Resurrection be the next The Walking Dead?
Let's just say the two don't even compare. 
In technical terms, Resurrection could be considered a series about zombies. After all, zombie is the term we use when referring to a body coming back from the dead, right? But these bear absolutely no resemblance to any zombies we've come to expect. The exact opposite, in fact.
That's what makes the idea so compelling.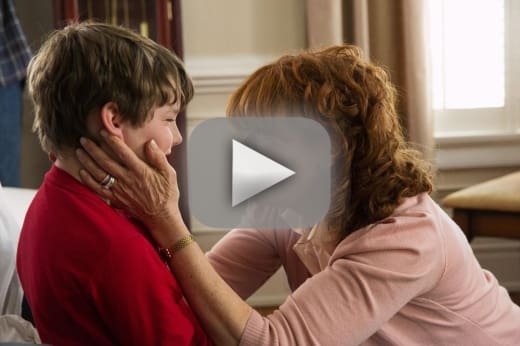 When a little boy rises up in a rice field in China who belongs in Arcadia, Missouri, the immediate reaction is to delve into the conspiracy of it all. What the heck is going on?
Jacob obviously isn't Jacob, right? A boy who died 32 years ago didn't just wake up around the world and waltz back into his life. His parents and his friends have all aged, but he's remained the same with no memory of being dead.  The only words Jacob uttered before he passed out in China were "Is he dead?" Was he talking about himself? His father? We have no idea.
He's never seen a cell phone before, but somehow is able to pull up the drawing program on Agent Bellamy's phone to draw "Arcadia" to let him know where he lives. It took me ages to find the drawing program on my new phone. Hey -- don't judge.
Later, upon seeing his Uncle Fred, Jacob falls onto the porch having seizures. Why? At the hospital, Jacob is checked by his cousin Maggie (it's a small town), and when she tries to listen to his heartbeat, at first she hears nothing. Is her stethoscope acting up or does Jacob need to know to make his heart beat?
Jacob's conversation with is childhood best friend, now a preacher, includes Jacob's inquiry, "Did I die? Did we all die?" Why does Jacob think they all died?
Jacob doesn't appear to sleep and has a voracious appetite. When his mother, Lucille, opens the trash bin to toss away some crusts from his latest grilled cheese sandwich it's packed to the rim with tossed crusts. He's a hungry kid, a virtual bottomless pit.
A lot of these things bring to mind another show that recently aired on SundanceTV, a French program called The Returned. Their dead didn't sleep and ate heartily. Their families struggled as they tried to deal with the reintegration of their dead with the living.
So what's it going to be? Will Resurrection turn out to be a show about the miracle of people returning from the dead or something else?
It's up in the air right now, isn't it? Although the series is based on a book by Jason Mott called "The Returned," this is television and it could take dramatic license. We like conspiracy theories and the science fiction aspect of our returning dead. It would be interesting to know answers to all of those questions raised above.
However, it's also interesting to imagine the people you love coming back, giving you a second chance to get it right. And how about this: what if notorious killers or renowned scientists come back? What would they accomplish or destroy the second time around?
Those simple questions then bring up other interesting areas for consideration -- at what point would society need to get involved or government need to intervene? 
Jacob's return to the Langstons is just the beginning. As the hour closed, his cousin Maggie's best friend Elaine receives her own surprise in the form of her father. It appears there are more dead coming home, but we'll have to watch and see if it's only affecting Arcadia or if it's on a larger scale and there's more to the story than a simple, yet miraculous, return.
Are you intrigued? Will you tune in again? Hit the comments and share your thoughts about the premiere and what you hope to get from the series -- a science-based or an emotional journey. 
Grade the Resurrection premiere!
Carissa Pavlica is the managing editor and a staff writer and critic for TV Fanatic. She's a member of the Critic's Choice Association, enjoys mentoring writers, cats, and passionately discussing the nuances of television and film. Follow her on Twitter and email her here at TV Fanatic.