"You're Gonna Miss Me When I'm Gone" was filled with highs and lows and dropped us off in a place I never expected. 
When Cavanaugh mentioned that Det. Frost was on vacation, it was a much sadder moment in reality than on screen. For those who may not know, actor Lee Thompson Young - who played Barry - died late last summer.
The previous episodes he appeared in had already been filmed and as costar Sasha Alexander told TV Fanatic a few weeks ago, the show will deal with the loss of the character later this summer.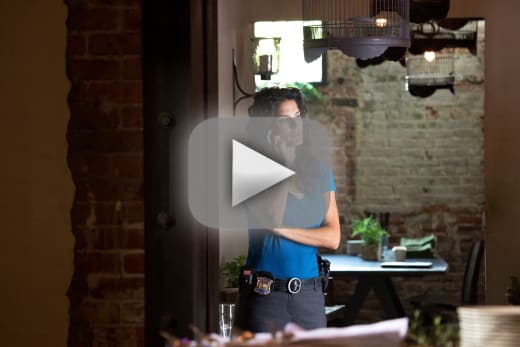 That thought was a complete contrast to the happy family celebration we were watching on Rizzoli & Isles Season 4 Episode 16 - but even that didn't last.
Everyone was so happy that Tommy was doing well. He was moving forward in his career and officially marrying Lydia. They were going to be a family and then that picture was ruined. 
After three years of sobriety, Tommy was drinking once again and, considering the things he said to his brother in front of Maura, he's just as nasty a drunk as his father. 
Previously, I had been hesitant about a relationship between Frankie and Maura but the more scenes they share, the cuter they look together. However, if it doesn't work out, the repercussions will affect the entire family. 
I appreciated Jane's warning to her best friend about Frankie in this Rizzoli & Isles quote…
You may not know this but that one, when he falls he falls hard. So you can't mess with his heart, OK.

Jane
The murder of the week was intriguing and what happened to Natalie was brutal. Raped by her boss and then executed for not keeping her mouth shut, what a horrifying ending for a young woman about to be married.
The dance everyone did to get around the Feds was amusing. Maura hid the victim's retainers while Cavanaugh played a quick game of musical chairs with the detective's computers. 
Jane's story was the one that had me feeling like I'd ridden a roller coaster. When she displayed that ring for all to see, Jane Rizzoli appeared as happy as we'd ever seen her. Casey was leaving the military to start a life with her in Boston and she was absolutely thrilled. 
Unfortunately, Jane only got to feel it for about a day before the rug got pulled out from under her. Casey was offered a commission in the Balkans and decided he couldn't imagine being anything but a soldier but he wanted Jane to come with him as his wife. 
Jane made the right decision. If being together means that one of them will have to give up so much of themselves that they'd be miserable, then perhaps it just wasn't meant to be no matter how much that hurts. 
And just when I thought it was over, it all went sideways. Jane might be pregnant! I never saw that coming. 
Rizzoli & Isles returns June 17 on TNT so we'll have to wait to get the official results but you tell us TV Fanatics…do you want Jane Rizzoli to have a baby?
C. Orlando is a TV Fanatic Staff Writer. Follow her on Twitter.