If you weren't on the edge of your seat during Suits Season 3 Episode 12, then you may not have a pulse.
This isn't the first time that Mike's secret has caused a near breakdown in the Pearson Specter house. It is the first time, however, that it has come this close to bringing down the house of cards they've built.
At the same time, Jessica was on the verge of her own breakdown as she attempted to execute her ex-husbands will.
And in the ultimate turn of events, Harvey becomes the voice of reason!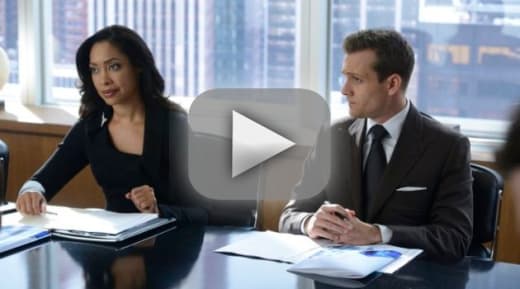 But I have to hand it to Harvey - he really held it together in the end, even when facing down the barrel of two guns.
It's no secret Harvey's been trying to contain Louis' growing suspicion and has done so successfully for a time. But that itty bitty detail of an A+ from a Professor infamous for awarding nothing higher than an A was enough to fuel a raging fire in Louis, enough to schedule said Professor for a lecture at the firm.
There's a lot to be said for all the ways Donna, Rachel, Harvey and even Mike himself attempted to stall what eventually became inevitable.
Donna began in Suits Season 3 Episode 11 to steer Louis towards what she believed would end his investigation, only to further fuel it. Then Mike attempted to spin another - and perhaps more dangerous - tale that could have unintended consequences moving forward.
In fact, the unintended consequences made themselves very clear almost immediately when Mike's attempt to cover himself backfired and Louis suggested he apologize to the man he claimed he wronged, prompting Rachel and Harvey's attempts to slay the raging dragon.
We've never encountered an instance of Mike's lie coming to the fore quite like this before. Where the lie has usually been internally managed rather well, the introduction of an outside force rose the stakes, decreasin the likelihood of success exponentially.
Let's remember that the reason Mike wasn't forced to confront Gerard on his fictional grade and fictional wrongdoing was not because Gerard had a change of heart. In fact, Harvey's attempts to reach out to him failed.
The reason things "worked out" in the end was because Louis was persuaded to let it go in the clutch. That had to be their closest call to date.
But one really brilliant aspect of this episode was its capacity to compare two characters who rarely have parallels drawn between them: Louis and Jessica. Both were in the throes of unforgiveness and in serious need of letting go of whatever they were holding onto, whether a deep-seated need to enforce loyalty or wounds produced by the actions of others.
We rarely see Jessica in a compromised state, and we especially don't see her teary-eyed. It was no surprise she was dead-set on co-executing her late husband's estate, but you almost never see her struggle with whether or not she's pursuing something for the professional or the personal.
It was surprising, however, that this meant Harvey became the voice of reason in this situation, and, as with Louis, he managed to persuade both Jessica and Quinten's widower to see eye to eye for both their sakes.
The chaos of it all produced some very heartfelt and powerful moments towards the end of the hour, in particular that brilliantly pieced together montage of Rachel taking Mike's hand in the elevator as they faced the inevitable; Rachel leaning on Donna as she cried in the bathroom; and Harvey's last pleas to Louis, each moment of which included Jessica's testimony discussing the truth and the spirit of it during her court appearance.
Definitely a powerful work of art we witnessed here tonight. This episode will be sticking with me for a while.
One does have to wonder, though, what consequences the addition of this latest layer to the lie could have on the firm, or even on individuals. When we spoke with Aaron Korsh recently, he seemed to hint that Rachel's deepening involvement with Mike and the lie is troubling as she pursues law school.
What do you think, Suitors, is this the last time we deal with Mike's lie?
Here is your first look at Suits Season 3 Episode 13:
C. Charles is a TV Fanatic Staff Writer. Follow her on Twitter.