No way out. That was definitely the theme of Suits Season 3 Episode 14.
Often, truths are hard to avoid, as some of our favorite legal eagles discovered on this strong installment.
Though, let's face it, some made it out better than others.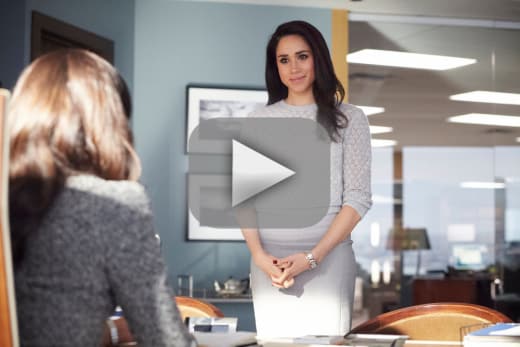 I can't say I'm surprised that Louis was the one who ended up in the hospital. It was either him or Harvey.
But I have to say, aside from the fact it threatened is health, I am actually glad it was Louis who suffered the heart attack. It helped pave the way for introspection on his part and viewers learned a lot as a result.
Clearly, the near-death experience prompted him to consider some drastic life changes, like marrying Sheila. But we also learned that Louis truly considers the people around him at Pearson Specter his family. Also, that he has an overwhelmingly strong desire to be a father.
The fatherhood stuff was beyond anything I was expecting from Louis, and I was surprised how much it hurt to see that become the true fault in his and Sheila's relationship, far beyond the trivial who-will-move-where discussion.
I truly felt awful for Louis in that moment. Yet it was one of many moments where the ties that bind these characters together really shined through.
Like when Jessica informed Harvey, Mike and Donna that Louis had suffered a heart attack. In true Suits fashion, Harvey was able to tell Jessica exactly why she shouldn't send Louis flowers; and though it could have been another moment where Harvey was insensitive, it really demonstrated the complete opposite in a way that was uniquely Harvey.
Donna's time with Louis in the hospital, coupled with her silent support of him there at the end, made for some of their best moments of Suits Season 3. Donna does seem to have a way with Louis, which I've always appreciated and I was glad to see it get some legit screen time.
The same could be said of Jessica's visit to Louis after he returned to work. Take that moment where she shared that photo and he took her hand. She called him family.
If I ever hear Louis complain one more time that he doesn't feel like he's in the loop or anyone cares, I may personally have to hurt him. Even so, it seems like as much love as he gained, he lost.
I would say the same for Rachel - she tried to collect on what she thought was promised her only to find it was anything but.
I remember her asking for her law school be paid and that Louis agreed to it. Leave it to life to get in the way and have her first bill coincide with his major cardiac event.  It doesn't surprise me she encountered resistance from Jessica.
Props to Rachel, though, for using Harvey as "Exhibit A" for her case to have her school paid for and making it all work in the end. It was nice contrast to some of the more dramatic things taking place at the time.
Which only really leaves Mike's confrontation with his truth: That he realizes he has a ceiling.
I thought it was clever that this idea wasn't introduced to us for the first time this week, but that it was cleverly woven into this case nonetheless. It always seems like one or more aspects of the case they work through each week has some reflective value for the Pearson Specter team.
What was different, however, was that this case interacted with that reality. Mike, desperate to reconcile his desire to move forward with the obstacles we've become all too familiar with, was actually offered a job in the financial sector that he could legally do and be successful at.
It's quite the conundrum and I'm glad I'm not the one trying to make the decision.
Overall, this episode was hands down one of the best this season, but we have to wonder about next week. Will Mike take the offer on the table?
C. Charles is a TV Fanatic Staff Writer. Follow her on Twitter.