The Big Bang Theory Review: Mommy Issues

Carla Day at . Updated at .
Sorry, Raj. A murder mystery party is only as good as the participants are enthusiastic.
And sorry, writers. The murder mystery party was not nearly as funny as all of Sheldon's one-liners. The dinner was a big bust for all!
The Big Bang Theory Season 7 Episode 18 was half a hit and half a miss, though what worked successfully overshadowed everything that didn't.
The Bad: it wasn't even that the dinner party was a downer itself. Instead, I felt like I was in a time machine rehashing the same relationship issues between Penny and Leonard. Haven't we seen this all before? Maybe not the specific issues, but the couple clearly don't know where they are going.
It was a sweet moment though when Stuart said they were a great couple. They do make one awesome person. Now, if only both halves of that person were headed in the same direction. Or, at least if each half knew where the other wanted to go. Maybe someday they will actually talk to one another.
Enough about the bad. The Good: Sheldon. Everything about Sheldon was hilarious. When I heard the premise revolved around Sheldon accidentally seeing his mother having sex, I wasn't sure about it. This episode had some of the best one-liners of the season. Here are a few of them and you can find more in our The Big Bang Theory quotes section.
I saw my mommy with a naked man and she was trying to be a mommy again.

Sheldon
I used to live in those genitals. And if someone wants to move into my old room, I should at least get a vote.

Sheldon
I love my mother. Even if she fornicates like a demonic weasel.

Sheldon
Howard ended up being the best person to be there for Sheldon. He was able to share his personal experience with his own mother to help Sheldon keep from making the same mistake he did. Besides, it was nice to see the two friends get along without Sheldon being mean and snarky to him.
Sheldon was able to reserve those comments for his mother. Overall, the entire interaction was hilarious from the moment his mother opened the door to the sex talk to the final comment about the Lord being mad.. From the table to the couch ... with a blanket underneath him of course.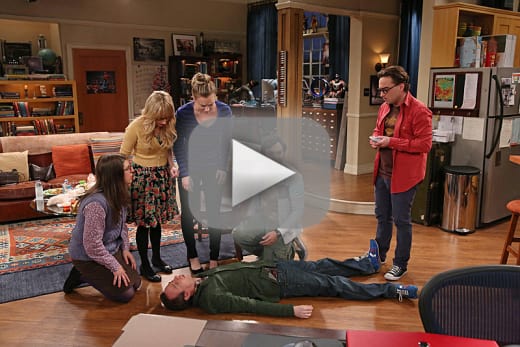 It will be intriguing to see if this conversation has any impact on Sheldon's relationship with Amy. I doubt it, but if his pious mother can be with a man for his perfect booty, then perhaps Sheldon can move beyond hand holding and a kiss. Yeah, it probably won't happen.
The final moment was funny, yet sad at the same time. Stuart remembered to show up in the future despite his lack of electronic calendar and no one else did. Poor Stuart. His future doesn't look bright.
Should Sheldon follow his mother's example in his relationship with Amy?
Carla Day is a staff writer for TV Fanatic. Follow her on Twitter and on Google+.