Please tell me I wasn't the only one left in a complete quandary at the end of The Tomorrow People Season 1 Episode 17.
At the conclusion of The Tomorrow People Season 1 Episode 16. Stephen had found his father's body and confronted Jedikiah to ask why he'd lied to him. I never expected that conversation to lead where it did in this episode.
I figured Jedikiah would find some way to smooth-talk his way out of it, but he surprised me when he started opening up instead.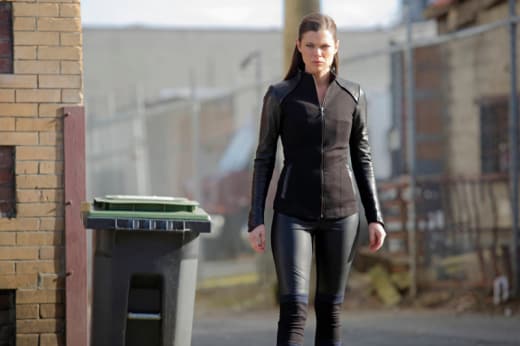 All along, I've been hoping that maybe, just maybe, Jedikiah would have some honorable motivation behind everything that he's done thus far. He just couldn't be the killer that he appeared to be most of the time, not after seeing glimpses of his humanity.
Lo and behold, Jedikiah opened his mouth and suddenly he was talking about secrets beneath secrets buried so deep so as to keep everyone from Stephen to John safe. It was like me dream come true. He said that the Founder was the one behind everything and that they needed to kill him in order to bring Roger back.
A life for a life. What do you say?

Jedikiah
It all made sense, too. The Founder was a powerful guy who had that ugly, devious machine that was designed to use paranormals and turn them into weapons. Of course Jedikiah would want to protect his brother from that and of course he'd have to keep the whole thing a secret from his nephew Stephen and his practically-adopted son John.
All of that worked for me until Stephen and John had the Founder at gunpoint and the man began spouting off a story that made it sound like Jedikiah was the bad guy. The trouble was, both stories made sense, so who do we believe?
You have an enemy, but it is not me.

The Founder
Even in the end, when Stephen found Jedikiah packing up in his office, I wasn't completely sure if he was the good guy or the bad guy. My heart – the part of me that loves Jedikiah and wants to believe there is good in him – thinks that he was telling the truth. But my head wonders if I too have been fooled.
Your powers make you very strong, but only your humanity can save us.

Jedikiah
My favorite bits:
Jed telling Stephen about the time Roger saved his life.
Finding out that Jedikiah did indeed have a plan for Roger.
Cara feeling a breakout similar to Stephen.
Jedikiah fighting the Founder by cutting into his own hand. Brilliant.
Finding out that Jedikiah engineered John to kill the Founder and bring John back.
Russell and his little bucket of popcorn.
Jedikiah throwing the pencil at his brother. Such a cute moment.
Cara discovering the new breakout was her sister. Whoa.
Sophie accidentally jumping in front of a cab.
Jedikiah apologizing to John for lying to him. The "kiddo" killed me.
Jedikiah telling John that he let the Tomorrow People catch Stephen so they could turn him. WOW.
Jedikiah begging John to help him stop the war. Whoa.
Russell jumping half out of his skin when he heard Jedikiah's voice. It is kind of wrong how hard that made me laugh.
Russell telling Jedikiah and Tim to stop stroking each other.
Stephen and John vs. the Founder's guards. Fantastic battle.
Wait. The Founder is the good guy now? I am so confused.
Who do you trust? Jedikiah or the Founder?