While circumstances have conspired to hinder my chances of completing my Veronica Mars catch-up before the movie's March 14 release date, I'm still having plenty of fun delving into Neptune's surprisingly seedy underbelly.
Especially since this latest episode helps shed some light on a couple of lingering questions.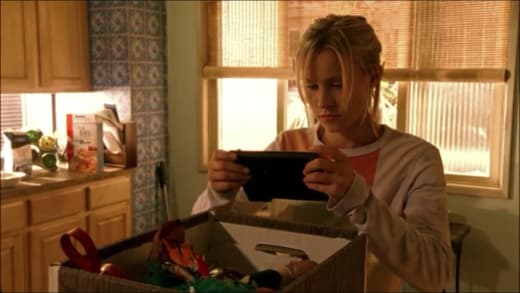 The title of Veronica Mars Season 1, Episode 5, "You Think You Know Somebody," applies to several characters in our heroine's life, chiefly her boyfriend Troy and her missing mother, Lianne.
While Veronica has been content to cast her mother as the villain for abruptly abandoning them after Keith lost his job, the discovery of Lianne's secret safety deposit box and its ominous contents help Veronica to realize that there's a lot about her mom she still doesn't know.
The box is filled with photos of Veronica at school and out with friends, which means that someone was stalking her (with a fairly high-end camera) and sending Lianne the results.
We also flash back to a moment a few days before Lianne disappeared, with Veronica's mother trying to take her out of class for an impromptu trip to Palm Springs in the middle of the school day - something that Veronica attributed to her mother's worsening mental state at the time, instead of an attempt to protect her from an unknown threat.
Realizing that her mom felt like they were in danger and was trying to keep them out of harm's way, Veronica sends prepaid burner phones to Lianne's closest friends and family in the hope of getting her to make contact, and at the end of the episode, Lianne calls from an undisclosed location and leaves a voicemail, cryptically promising her daughter that everything will make sense when the time is right, but urging Veronica not to try and find her.
Since Veronica is clearly (and understandably) dealing with severe abandonment issues (one of her voiceovers sardonically notes, "the best way to dull the pain of your best friend's murder is to have your mother abandon you as soon as possible"), these small but hopeful discoveries about her mom are undoubtedly helping to fill in the broken chips in her armor.
While they're not as reassuring as a proper explanation up front would've been, she seems to be realizing that her mother still loves her and apparently had a pretty valid reason for disappearing.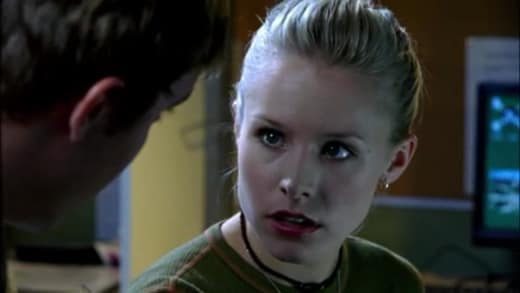 Sadly, Veronica's realization about Troy is far less positive. After she wastes time and resources trying to track down his father's stolen car after a trip to Tijuana, in an attempt to keep him from getting shipped off to boarding school, Veronica comes to discover that the disappearance of the car (and the piñata full of steroids that Troy's friend Luke was supposed to bring back for a scary gym-owning drug dealer) was part of Troy's elaborate scheme to run away with his equally troubled ex-girlfriend and enough money to start a new life away from his overbearing parents.
This surprising revelation half works:
Troy has basically seemed too good to be true since he first appeared - dating Veronica despite also being friends with an unrepentantly cruel Logan and the rest of the popular crowd (something that made me suspicious of him from the outset), and being sweet and attentive while still being a typical teenage boy who decided it was a good idea to lie to Veronica's dad about getting them a hotel room after the Homecoming dance.
His sudden betrayal comes out of left field, and Veronica only wises up to his dirty dealings after Keith runs a background check on him that prompts her to confront Troy about getting kicked out of multiple schools for drug possession and trafficking. He reasonably points out that he might've told her the truth about his past had they known each other for longer than a month - but his motivations are never fully explained.
Did he truly care for Veronica, or was he simply biding his time until he could escape with his ex? He appears to be a surprisingly savvy conman, and Veronica doesn't seem to shed any tears for him, but the bait and switch still feels jarring and vaguely unsatisfying since the pair never have an actual conversation about whether anything was real.
Still, life is sometimes like that, and people drift in and out of our lives for reasons that are occasionally unfathomable to us, so I won't be losing sleep over the lack of closure - especially since the door is open for him to return for a proper confrontation after Veronica swaps out his stolen steroids for candy.
Elsewhere in the hour, Veronica discovers that Keith is dating her guidance counsellor, Rebecca, and takes the news about as well as can be expected, running a background check on her and having a fight with her father about him letting Rebecca "into our lives like it's no big deal."
Keith reluctantly but wisely breaks things off with Rebecca after realizing that Veronica's not ready to see him dating - especially when things with Lianne are so unresolved, and he and Veronica make peace, allowing him to reassure his daughter that she'll always come first in his life.
We finally get to see a little more of Keith's emotional state this week, with the episode proving he was every bit as hurt as Veronica by his wife's sudden disappearance: he tells Veronica that Rebecca makes him feel good about himself and wanted for the first time in months. While Veronica's first instinct is to track Lianne down for answers, Keith - who makes a career out of finding people - doesn't want to hear her reasons, at least not yet.
I'm looking forward to finding out exactly what drove Lianne out of town and how it's linked to the Kane family, but I suspect we'll be waiting most of the season for that revelation. 
Matt Richenthal is the Editor in Chief of TV Fanatic. Follow him on Twitter and on Google+.