On 2 Broke Girls Season 3 Episode 22, Max and Caroline discovered that sometimes you have to do something you don't want to.
When the girls' landline rang, I wasn't sure what to expect.
Like Max said before, that phone ringing is always a bad sign and this time was no different. The thought of the girls losing their place made me sad. How can there be a show unless they live in that ratty old place with Caroline's fold-down pink vagina bed?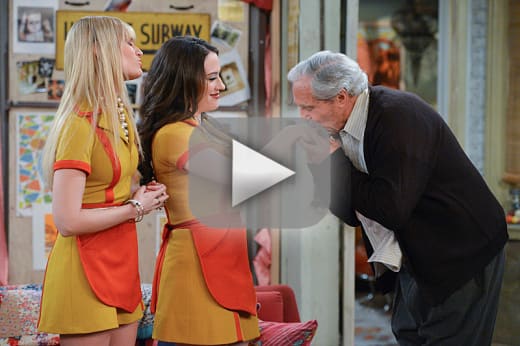 So... who could blame them for running off to a retirement home to find Lester and ask him to sign their lease.
All things considered, though, I think they would have been better off if the old comatose guy had been Lester, instead of the sex-crazed old fart they ended up with.
Well, my high was catching a glimpse of a customer's lacy g-string and my low was seeing his junk.

Oleg
Max and Caroline never back down from a fight and they weren't going to let their crappy apartment go that easily. Did I think that either of them would actually sleep with Lester in order to stay there? No, not even remotely.
But I did think it was beyond cute the way that both of them decided that they couldn't live apart and at least attempted to bed him so that they could stay together. I mean seriously, if that's not a sign of true friendship, I don't know what is.
As soon as they find out this Lester Donovan is no longer living there, the rent will get higher than Justin Bieber on a plane with his dad.

Max
Sophie came to the rescue, though for her sake I'm glad that Lester couldn't take whatever it was she was dishing out. I'm not knocking older people, it's just that Lester was kind of a jerk so it was nice that Sophie didn't have to sleep with him either.
Ladies, you're wasting your time. He can't speak and he doesn't like girls. He's a vegetable and a fruit.

Lester
In the end, the girls got to keep their place and their virtues. Well, one out of two ain't bad.
My favorite bits:
Max congratulating everyone on their diner family drifting apart.
Han using the word "pow wow."
Finding out that Caroline's ringtone was "Let it Go." Why does that not surprise me?
Caroline busting out some pretty impressive Japanese. At least it was impressive to me, anyway.
Max grabbing her boobs after announcing they needed to grab two things they loved.
Max pointing out that she and her boobs couldn't fit in the miniscule apartment.
OMG! Lester is Barney Miller!
Caroline wondering why Lester was going to need his penis pump to go with them. That was a very valid question.
Caroline realizing how odd it was to celebrate staying in a place she never wanted to be in the first place.
Lester making himself at home. Ruh-roh indeed.
Sophie's response to being asked if she'd get with Lester.
Max pointing out that sleeping with Lester would be like antiquing. Oh man, now I'll never be able to see an antique shop the same way again.
Max and Caroline admitting they weren't ready to live without each other. Aw.
Max screaming like a banshee before attempting to go have sex with Lester.
Would you have slept with Lester if you were in Max and Caroline's shoes?