Agents of S.H.I.E.L.D. Review: Turning the Tables
Kate Brooks at . Updated at .
As the HYDRA infiltration continues to grow, so does the intensity in each passing Agents of S.H.I.E.LD episode.
Now that Ward has been reunited with the team, his allegiance with HYDRA faces its ultimate test when he goes up against the world's best lie detector that even Romanoff can't beat... or can she? Fury will never tell...
With May and Coulson still on the rocks, he drags Fitz, Simmons and Triplett on a mission to save his former lover. During Agents of S.H.I.E.L.D. Season 1 Episode 19 we come closer to the despairing truth that Ward may not be good after all.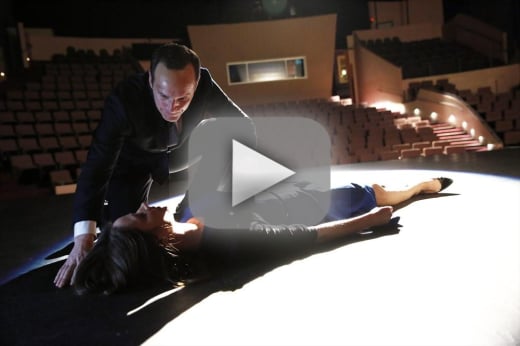 The past few installments of Agents of S.H.I.E.L.D. show the world that we've come to love and adore has been ripped apart with the HYDRA infiltration, turning into shambles.
Since Ward's reveal, I've refused to believe that his allegiances were with Garrett and HYDRA; I stood steadfast that his love for Skye would win. Unfortunately, I do not believe this to be true after tonight.
As mentioned in our review of Agents of S.H.I.E.L.D. Season 1 Episode 18, it will get worst before it gets better. Ward killed Agent Eric Koenig in cold blood (I will miss you, Patton Oswalt) and seems to be getting a little bit more careless with his ability to be secretive; i.e. Skye finding Eric's body while he creepily tracked her down.
It also became obvious that he's trying hard to be someone she is attracted to.
In Ward's defense, his tactics did work for a little bit.
I sort of knew going into the episode that Skye would find out the truth. Since then, I have been wondering how she would handle the news. You know, would she try to tell Coulson right away? Would she be able to keep her cool?
All of these different scenarios ran through my mind and I hoped that they'd make it so that it would improve her character and it most certainly did.
I am so pleased with how Skye is turning the tables on Ward. She put her feelings to the side and was an agent - a real agent - and is now playing him. This is the best thing that has ever happened to her character, she has an actual purpose and a kick-ass story line and now her character is going to be able to shine.
The next question is, will this ultimately lead to revealing her 0-8-4 status? We got this reveal such a long time ago and it's definitely taking the back-burner to the HYDRA plot - but I can't help but wonder if this is where it's all going? I see this being a cliffhanger into the next season.
If there is a next season.
While Skye put on a fake face for Ward, Coulson was off protecting the love of his life. This broke my heart a little bit. I've never thought about Coulson having a personal life because he's always been so consumed with his duties as an agent.
To know now that he had a woman that he left behind when he died in New York, it's tragic. If anything, it's made me love his character more than before.
Then there was also Fitz struggling with his feelings for Simmons; battling the decision to either tell her or let her be. Surprisingly, he didn't tell her, I really thought he'd try. A little disappointing but I look forward to seeing more as this continues. You can't Fitz without Simmons, it just doesn't work that way.
Overall, this was my favorite episode of Agents of S.H.I.E.L.D. Season 1 because it had my heart racing. Every commercial break made me even more stressed out because I couldn't stand the anticipation.
The most rewarding thing for me is seeing Grant not have all of the cards anymore and for Skye to know exactly where she wants him. This will surely be a conclusion that nobody will want to miss.
Do you still believe that, in the end, Ward will be loyal to HYDRA?