Felicity is calling some shots! Who saw that coming?
On Arrow Season 2 Episode 19, we saw Felicity take charge more than once, as she not only came up with the plan to blow up the Applied Sciences building of Queen Consolidated, she helped carry it out. She's a bona fide bomber now! You go, girl!
There were a lot of surprising character interactions and revelations here: Laurel connected the dots. Oliver learned about his father and Isabel. He admitted he could have cured Slade but chose to kill him instead.
Lance doesn't want to know who the Arrow is and Thea realized she has two mass murderers as parents. We even got a flash of Caitlin and Cisco who will be starring on the sister series with Barry Allen.
For those of you who fast-forwarded through all of Laurel's scenes, you missed out. She may not have been able to see their faces through the little masks, but when she saw scars on Sara that matched Oliver's she knew her sister was the gal in black who has been hanging out with the Arrow.
There was a point when she almost confronted Oliver about it, but she got a call about Lance being in the hospital. Talking with her dad, she learned that he doesn't want to know who the Arrow is. 
It's The Arrow that matters. The man under the hood isn't important. Can you imagine what it's like to be him? What he has to live with day in and day out? What that's gotta be like? Hey? The least I can do is to a little bit of time for him.

Lance
It didn't stop Laurel from following up on her hunch to make sure what she believed to be true was factual, but she also seemed to make a decision to let it go. What that will mean going forward is anybody's guess, but she's obviously going to be supportive. She went to Oliver and gave him a meaningful hug to let him know how important he is to her. She's not going to tell him what she knows. Did that surprise you?
Thea was needed to sign some documents to form a trust to save what remained of the Queen assets. Imagine -- she wasn't in the mood. All of the things we've said behind her back she finally said herself to Oliver. She had a crush on her half brother and tried to kiss him, her father killed him and she's the child of two mass murderers.
She's in a really bad place that would have been a lot better if she had the guy she loved at her side, even with Mirakuru flowing through his veins. It turns out Roy just fled. Slade and Isabel found him in a shelter and were feeding him the new blood mixture of through the bio transfuser. Thanks to Oliver, he'll be worse than ever.
Kind of like Slade. We obviously need to know more of the story to understand why Oliver chose to kill Slade rather than give him the cure for Mirakuru. From what we know so far, it doesn't seem that their relationship is so far gone that they can't salvage it. Even everything that happened on the ship seems like it can be put aside for a cure.
In the big showdown where Oliver was prepared to extricate Slade from the blood delivery machine and he found Roy, he shot an explosive arrow into Slade and Diggle shot Isabel. I thought for sure she was dead, but before the credits roll, Slade has her hooked up to the machine. Looks like she's going to be very much like the Terminator soon! Familiar territory for Summer Glau.
Isabel and Slade are a perfect couple. He's out for revenge for a woman he never had a relationship with and she's seeking the same for her married professor who was her "soul mate." Good Lord. Now they'll both be pumped up on Mirakuru? Here's hoping they only have eyes for each other after it's all over.
As a side note, STAR Labs is run by kids. Barry and now Caitlin and Cisco are unbelievably young. Is The Flash a character that is more suited for children than the Green Arrow? He was in the Teen Titians and all that, right? Tell me what you know about it!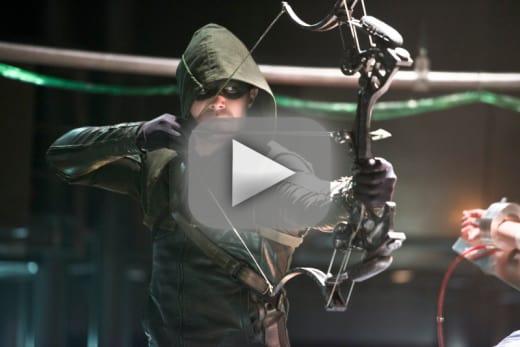 There was a lot more to love and we'll try to cover some of it in our Arrow Round Table. Until then, watch Arrow online and hit the comments to talk about your favorite bits.
Do you think a cure will be found and delivered for Mirakuru?
Here's your first look at Arrow Season 2 Episode 20, "Seeing Red."
Carissa Pavlica is the managing editor and a staff writer and critic for TV Fanatic. She's a member of the Critic's Choice Association, enjoys mentoring writers, cats, and passionately discussing the nuances of television and film. Follow her on Twitter and email her here at TV Fanatic.