Elementary Review: Bite Marks
Kate Brooks at . Updated at .
This installment of Elementary was one you could sink your teeth into, quite literally.
When an old case re-opens, it hits close to home with Joan, as she was there when the original presumed killer died on the operating table.
Years later, two women are found with the same exact bite marks, which leads Watson to think she watched helplessly as her boss let an innocent die in the middle of surgery.
Yes, on Elementary Season 2 Episode 19, our favorite investigative duo were taken on a trail of dentures, guilt and murder.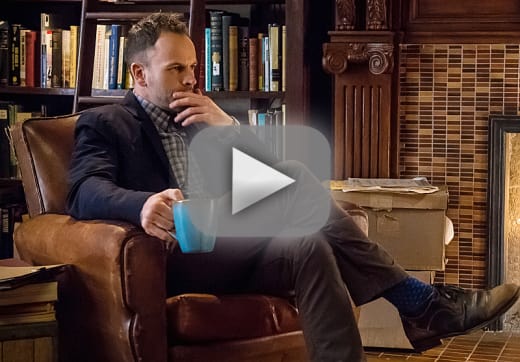 For the record, I wrote down who I thought the killer was going to be early on just to see if I would be right again. My original guess was the creepy dental assistant Stan. But then, as he became more of a plausible suspect, I knew he couldn't have done it.
Lo and behold, my second guess was the right one: The mother of Andrew Colville. Holmes said it best that the killer would be one who could benefit the most. When it was mentioned that she was going to be suing the police for "wronging" her son, that sold it for me.
I don't know what is creepier, nine people walking around with the same set of dentures of a killer or Andrew's mother wearing them to convince the world her son wasn't a murderer.
Either way, Joan was able to walk away from the case guilt free, knowing that the man who died was not innocent and that there was nothing she could do to save him.
My favorite quote of the night was when Joan said, "I do know that I was standing over him thinking about justice. That's not what doctors do." To which Sherlock replied: "Sounds like more of a consulting detective."
Yes, Joan was always meant to do what she is doing now.
Other notable moments in the episode included the return of Holmes and his ridiculous signs to get "them" to help him. In case you forgot what the sign said: "Help me catch a murderer by punching me in the arm."
Continuing, Sherlock reenacted scenes from the animated film Frozen, to which he gloated about his portrayal being better than the original; unfortunately, we didn't get to come to our own conclusions.
A girl can dream that one day she will see Jonny Lee Miller in a Disney princess dress singing "Let It Go" and doing it better than Idina Menzel. Can't she?!?
I also just wanted to point out that Watson didn't wear what Sherlock picked out for her this time. However, Joan jams out with her Beats by Dre while cooking.
The last and most notable moment was that after two seasons of Elementary, we saw a brief flashback of Joan as Dr. Watson. Though, it wasn't her operating table, I will take it. We do not get many flashbacks, so you take what you can when you're given it. You don't hate on it, you just accept it.
Overall, this was a decent episode. I keep waiting the writers to raise the stakes as they did towards the end of Elementary Season 1. At this point, we have five episodes left and each week builds my anticipation for what's to come.
As Elementary has shown us in the past, it knows how to do emotionally intense episodes and I can barely wait.
Who did you guess what the killer?