Elementary Review: Death By Drones
Kate Brooks at . Updated at .
With the return of Mycroft came the return of mischief and secrets.
On Elementary Season 2 Episode 21, Holmes and Watson investigated the disappearance of a woman... only to uncover a double homicide caused by drones.
With a cliffhanger that left me on the edge of my seat, it looks like Elementary is finally turning up the heat.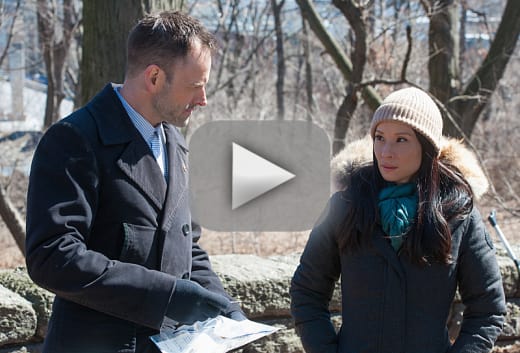 The last time we saw Mycroft was in Elementary Season 2 Episode 8, and his departure left nothing but questions when it was revealed his ploy to get Sherlock back to London was unsuccessful. This ploy came with a unknown motive. The twist seemed trivial at the time, but after a long wait, it has come back into play.
When Mycroft tried to lure Sherlock back by threatening that their father was going to take his money away, Sherlock didn't care because of the family he had created in New York. So the moment he tried to get Watson to agree to a romantic proposal, it seemed suspicious.
It was also weird. If there weren't ulterior motives related to Myrcoft, I would not like him and Joan together. He may be a gentleman and soft spoken, but I don't feel that he is right for Joan.
However, some of the best scenes from the episode were when Mycroft was telling Sherlock how he only appreciated Watson for his own selfish reasons. I somewhat agree with him.
In the beginning, Sherlock stated he didn't have a peer or an equal to keep him interested. I felt like this was an unintentional shot at Joan. After all of they've been through, if there is anyone close enough to be his peer, it's Joan.
Watson is not equal to Holmes when it comes to his genius mind, but she is his companion. Do I want these two to date? No. But they represent a different kind of partners.
Other than Mycroft's awkward advances to Joan, there was the investigation that consisted of the most sci-fi case yet.
When one of Sherlock's A.A. "friends" needed his help finding her missing sister, the duo ended up uncovering two murders that were committed by drones. Amongst the murderous drones, there were poisonous and sky metal mosquito drones flying around New York watching and killing people. I am glad that Elementary stepped out its normal and went with this storyline.
Not only was it different, it was very entertaining.
While the case was going on and Joan was dealing with flirtatious Mycroft, Sherlock was doing a little investigating of his own of the suspicious personnel in Mycroft's restaurant.
My current theory is that Mycroft put those men in the restaurant knowing that Sherlock would find them mysterious. With this suspicion and Mycroft's "feelings" for Joan, Holmes would surely divulge his findings to Watson. To which, Watson would be led into investigating it as well. Thus, leading to her kidnapping.
Either I am turning into a little Sherlock myself or maybe I am so wrong that I'm average. If it's the latter, I still don't believe that Mycroft is innocent. I don't trust him.
Will Holmes be able to save Watson, his peer and companion? Is Mycroft to blame for it all?
Do you think that Mycroft played a role in Watson's kidnapping?