You just can't go wrong when you have a story that includes a dog named "Dave," a homeless vet named "Blue" and Abby's heart of gold mixed in between.
NCIS Season 11 Episode 22 started out with the disappearance of the key witness to a court martial.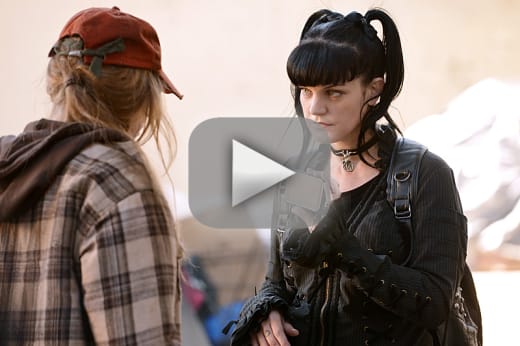 Navy Staff Sergeant Martin Roe was scheduled to testify against Army First Lieutenant Michael Waters, who was charged in the death of an Afghan villager during a raid. What was not known was whether the man was murdered out of vengeance or because he had threatened Waters.
When Roe disappeared and was later found dead of a drug overdose, suspicion immediately fell on Waters.
Of course, you know that this is fairly typical for NCIS: it gives you the most obvious suspect almost from the start and builds him into a menace. In this case, the series added a belligerent JAG representative and made it easy for us to hate him.
So we knew right away there was no way Waters killed him. It was too obvious. Waters only served as a prop for misdirection.
Just as obvious was the fact that the most non-threatening guy on the show - Lorin Davis - had to be the killer.  The only thing we didn't know was how or why he was involved. 
Yeah. That was a little too predictable.
The harvesting of organs for sale on the black market as a motive for the elaborate set up and killing of Roe was by contrast not predictable at all, though it seemed far-fetched.
Really, the saving grace for the story were the four characters who truly shone: Blue (even though we never met him), Roe, Abby and, of course, the ever lovable Dave. 
Abby's heart was in plain evidence, right there on her sleeve, throughout. When she asked about Blue, I liked that Gibbs' first impulse was to hug her hard before telling her that Blue had died. 
So of course we knew that the next thing she would do is scout around to try and find Dave. Only when she found him, she also found another lost soul named Emma. In typical Abby fashion she proceeded to help her, despite Emma's protests. Anyone who knows Abby knows it's no good to tell her not to care. She can't help it - it's who she is.
Threaded throughout the hour was something else I really appreciated: the focus on the many homeless vets.  The men and women who through no fault of their own come home and fall through the cracks. The reasons are numerous, and include PTSD as well as financial issues.  
Gibbs: The VA's got a lot of programs for vets, Doc. I wonder why Durbin was living on the streets.
Ducky: I recently read a HUD report. It estimates on any given night, between fifty and sixty thousand men and women who have served, are sleeping on the streets or in shelters.
Whoever took those amazing photographs of the homeless - and particularly the one of Blue - should be applauded. They were truly stark and poignant. 
This is an episode I won't forget.
Final thoughts:
Emma asked Abby to take care of Dave "for a while." I think they've just added a wonderful cast member to the crew and I hope we see a lot of him in future episodes. 
Nice to see a bit of the old dynamic between Tony and McGee. First, he spritzes him with that horrific "eau de street curb" cologne. And then, once he smells like cat urine and body odor, he sprays him again. And again. I mean, he really went to town on the poor guy.
I've smelled that odor before. It really makes your eyes water and your throat close. There's no way they would get the smell out of Abby's lab. Not without industrial strength bleach and maybe some dynamite.
Wasn't that a great homeless disguise for McGee? Really believable. 
Don't forget to check out our NCIS Round Table for this episode.
What did you think of the episode? Let us know in the comments.
What should happen with Dave the dog?
Here's your first look at NCIS Season 11 Episode 23, "The Admiral's Daughter."
Douglas Wolfe was a staff writer for TV Fanatic. He retired in 2016. Follow him on Twitter
.