A junior officer in the Navy is drugged and raped, and the friend in whom she confided about it is later killed.  That's the setup for this well-written episode of NCIS.
NCIS Season 11 Episode 21 began with a driver running over a dead body while texting. Ducky echoed my thoughts on driving while texting perfectly:
Gibbs: What do you think, Duck?
Ducky: It was not that texting driver that killed the ensign, but that damned fool should be stripped of both his phone and his car.
Much like most episodes, NCIS gave us a great helping of misdirection, starting with the dead body itself, which was only a peripheral case to the main one. 
His killing could more easily be defined as "death by misadventure;" the bartender had attempted to push him away from his fellow bar combatant and in the process shoved him into the side of a dumpster. 
The resulting injury caused him to have some slow internal bleeding which resulted in his death. The bartender was later charged with involuntary manslaughter.
The major case had to do with the hushed-up rape of Navy Ensign Holly Farrell. And it couldn't have come at a better time in the series. 
Lately, there have been a number of articles detailing the problem of sexual assault in the military ranks. As one might imagine, the issue is a delicate one, but deserving of light. 
As Gary Glasberg revealed in an exclusive interview this week with TV Fanatic's Jim Halterman, the Navy was interested in NCIS writing an episode on this.
This story was compelling and seems to mirror real-life accounts we've read in the news. It seems almost common knowledge that the majority of civilian rapes go unreported, for a number of reasons. So it's not surprising to find that the percentage of unreported assaults rises when it comes to women in military ranks:
They have to live and work with their fellow brothers-in-arms. Introducing the topic to such closed ranks takes more than courage because it has resulted in them being ostracized - and, in being passed up for promotion, among other things.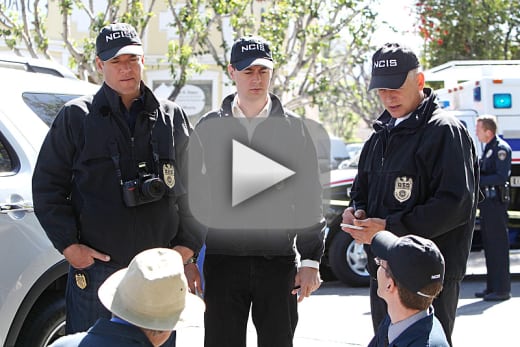 Ensign Farrell's fears were all too real. And Abby was the only person who could offer her what she needed most: unqualified support, empathy and acceptance. Plus, the patented "Abby hug" went miles with her.
The episode was book-ended with the McGee-DiNozzo cleanse. Bishop couldn't see the point of it, of course, and neither can I. 
No matter: it turns out only one of them was actually doing it. Although I can't imagine how a salad and pepperoni stick diet could work either. How did McGee's breath not stink up the place?
Final thoughts:
It was great to see Kelli Williams playing the part of Special Agent Maureen Cabot. You may remember her from Fox's Lie to Me.
Speaking of Cabot - what a kickass punch she gave to the commander! A few inches higher and he'd have been dead.
Maybe I missed it, but I didn't see where we got a good explanation about why Ensign Burke blurted "I didn't do it!" when Gibbs and Tony stormed his room.
At the end, when Farrell said goodbye to Gibbs, I understood why she saluted Gibbs but wished she'd obeyed her initial impulse and hugged him instead. 
The next episode of NCIS Season 11 will air in two weeks.
UPDATE: the NCIS Round Table for this episode is now up.  Come over, read what the gang had to say about it, then provide your own insights!
I said earlier that I agree with Ducky about texting drivers - that they should lose their phones and their cars. But do you?
Douglas Wolfe was a staff writer for TV Fanatic. He retired in 2016. Follow him on Twitter
.